Publications

Places for Happiness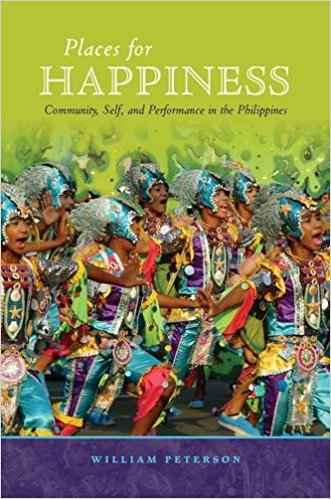 Places for Happiness explores two of the most important performance-based activities in the Philippines: the processions and Passion Plays associated with Easter and the mass-dance phenomenon known as "street dancing." The scale of these hand-crafted performances in terms of duration, time commitment, and productive labor marks the Philippines as one of the world's most significant and undervalued performance-centered cultures. Drawing on a decade of fieldwork, Dr William Peterson, College of Humanities and Creative Arts, examines how people come together in the streets or on temporary stages, celebrating a shared sense of community and creating places for happiness.
The first half of the book focuses on localised and often highly idiosyncratic versions of the Passion of Christ. Will considers not only what people do in these events, but what it feels like to participate. The second half provides a window into the many expressions of "street dancing." Street dancing is inflected by localised indigenous and folk dance traditions that are reinforced at school and practiced in conjunction with religious civic festivals. Will identifies key frames that shape and contain the individual in the Philippines, while tracking how the local expands its expressive home by engaging in a dialogue with regional, national, and diasporic Filipino imaginaries.
The final draft of this book, much of it written while on a fellowship at the International Institute for Asian Studies at the University of Leiden, was completed shortly after Will joined Flinders from Monash University in 2014.
Earlier this year, the book was shortlisted for the prestigious International Convention of Asia Scholars Book Prize in the Social Sciences category, the most competitive of such book prizes globally. Originally published in hardback in 2016, the book has now been reissued in paperback, and is available for purchase in paperback from the University of Hawai'i Press..
If you have a publication that you would like to promote to the Flinders' community, please contact Nikki Johnson on nikki.johnson@flinders.edu.au.