Flinders Research News

Researcher Mentoring End of Year Celebration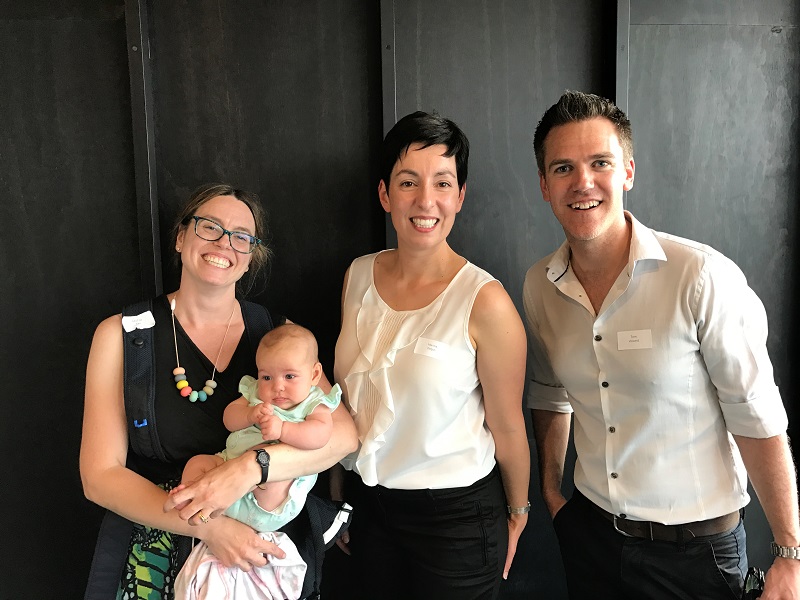 2016 mentee Dr Michelle Swift, with her 12 week old daughter (School of Health Sciences, Speech Pathology), Dr Marina Delpin, and 2016 mentee Dr Tom Vincent (School of Computer Science, Engineering and Mathematics).
Mentees, their mentors, and invited guests attended the End of Year Celebration for the 2016 Researcher Mentoring Scheme in the Alere Function Centre on December 7. December marks the end of the annual scheme and this event provided an opportunity for networking and reflection on the year's successes.
Scheme sponsor, Professor Robert Saint, welcomed guests and spoke on the history and positive impact of the scheme – now in its fifth year and having benefited more than 110 of Flinders' early career researchers (ECRs). Dr Marina Delpin, Project Manager of the Scheme, thanked all who have been involved, and spoke on success of mentoring partnerships and the 2016 scheme's activities. Marina said that in 2016 there was "an increasing focus on creating a collegial, supportive, peer-learning environment for the mentee cohort."
The scheme was launched in March, following the February mentoring workshops, and enabled all of the scheme's participants to meet for the first time before establishing their formalised mentee-mentor meetings for the year. A professional development morning in July gave mentees an insight into "End-user engagement: translating research for societal and economic benefit". This session weaved together the effective practices of engagement, discussion of the revised ARC Linkage program, and contextualisation of Agenda 2025 and the National Science and Innovation Agenda (NISA).

A November peer-learning and peer-networking event for mentees featured an informative round-table discussion on grant application strategies for ECRs, research record building strategies, career planning and the role of mentors in the career of ECRs. Both the July and November events featured mentee feedback on their appreciation for the opportunity to meet and strengthen existing relationships with peers, and to learn directly from senior researchers and peers who have recently "successfully lived the experience".

Marina closed her speech by highlighting that "Mentees highly value the opportunity to meet with their mentor, and the insight that they gain from these meetings. Thank you mentors for the guidance you are providing to Flinders' next generation".

The 2017 scheme will commence in February.
---