Flinders Research News

Introducing the new Microspectroscopy Facility Manager at Flinders Microscopy and Microanalysis

The instrumentation housed within Flinders Microscopy and Microanalysis (FMMA) is supported by a team of Instrument Leaders (academic staff with an extensive background in their chosen techniques) and Instrument Managers (technical staff who conduct training, support users with routine issues and undertake maintenance).
In 2020, FMMA welcomes the addition of new team member, Dr Alexander Sibley.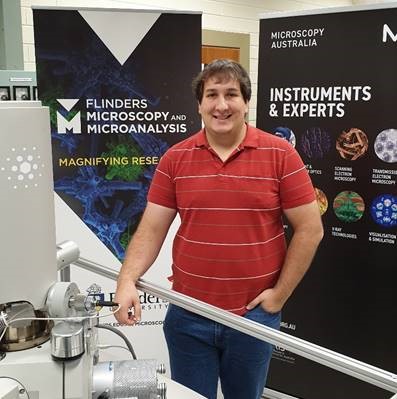 Alexander completed his PhD in 2019 at Flinders University. His research involved the creation of thin organosilane films on metal oxide surface through both chemical and plasma deposition. A focus of this work was microspectroscopic analysis of these films with surface sensitive analytical techniques.
He joins the team as Instrument Manager for the PHI 710 Scanning Auger Nanoprobe, FEI Inspect 50 Secondary Electron Microscope and Bruker D8 Advance Eco X-Ray Diffractometer. Alex maintains and operates these instruments offering training for new facility users, and measurements/analysis for clients.
Please contact him or the rest of the FMMA team at microscopy@flinders.edu.au.
---