Flinders Research News

2020 Researcher Training and Development Program and Calendar Launched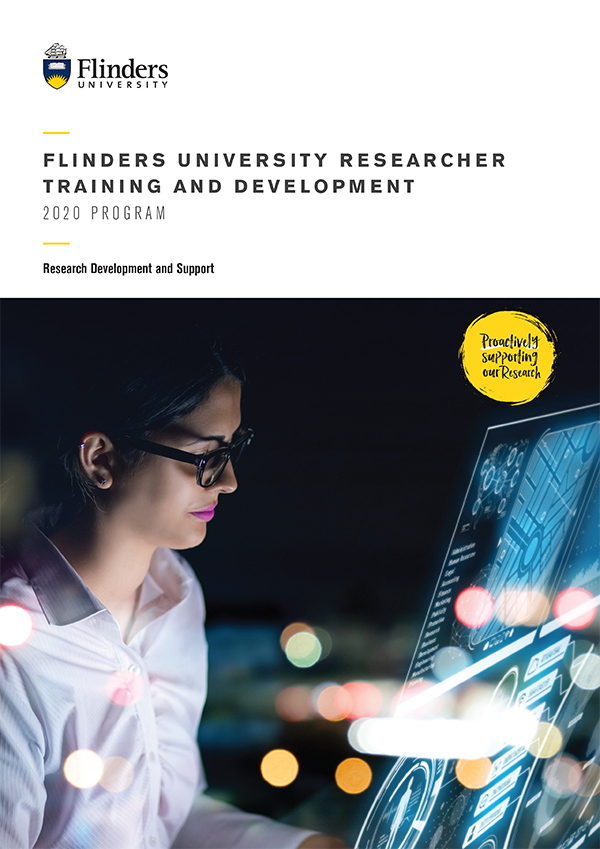 Research Development and Support (RDS) has released the Flinders' Researcher Training and Development 2020 Program – a brochure providing an overview of all opportunities and initiatives that focus on supporting your research journey and career development. We offer a range of programs that support all career stages.
The brochure details Flinders' initiatives including: Research FastStart, the Flinders' researcher induction program; research grants "intent to apply" registers, and; researcher skills training and development workshops.
Access the brochure now to view listings of all 2020 workshops and dates, which will enable you to forward plan and map your research training and development for the year. Workshops assist in building researcher capacity and capability, as training focusses on developing skills core to the research process and doing research at Flinders University.
Access iEnrol-Research to book into 2020 workshops and access detailed session descriptions. These listings provide an outline of learning objectives and outcomes.
In 2020, core themes include:
benchmark
fund and apply
commence
publish
communicate
partner
integrity, ethics and compliance
research prizes and awards.
Also new to 2020 - training and development will be offered in two formats:
Research Bites, short 45 minute lunch time sessions
Workshops, 1.5 hours in length to provide deeper insight and exploration of topics, including peer-learning and Q&A panels.
RDS proactively supports Flinders' research community and is pivotal in providing research support together with partners located within different Flinders' Portfolios.
To contact the RDS Researcher Training, Development and Communication team directly please email researcherpd.rds@flinders.edu.au or call 8201 3968.
---