Flinders Research News

BRAVE Lecture - The Future of the Workplace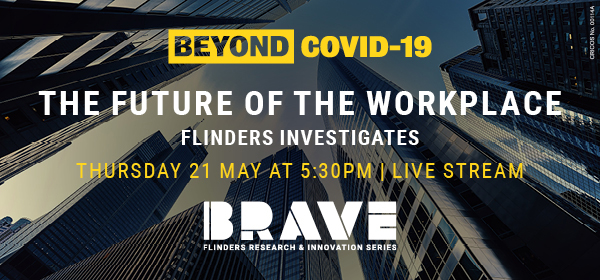 Join globally renowned Futurist, Andrew Grill and Director of the Australian Industrial Transformation Institute, Professor John Spoehr for the May 2020 Brave online event: The Future of the Workplace.
There has been much global discussion about Covid-19 and its effects on life as we once knew it. During the pandemic, our community focus has been on prevention, control, restrictions, safety, social distancing, isolation, and curve-flattening. But what does our society look like beyond Covid-19? And in particular, the workplace?
Many employers have been forced to adapt their business models and approach to employees working arrangements. As we return to work, or in some instances, need to find new work, what are the likely changes we can expect going forward?
Join our online presentation as we talk to internationally renowned futurist, Andrew Grill, and Director of Flinders University's Australian Industrial Transformation Institute, Professor John Spoehr about the future of work in the digital age, the effects of Covid-19, Industry 4.0 and Artificial Intelligence, and the ways in which this new work paradigm can be leveraged for the greater good.
To register to attend the livestream on Thursday 21 May 2020, visit the Registration page.

Through its education and research programs, Flinders encourages new ways of thinking, and supports experimentation and daring, with the mission to contribute on an international scale through 'changing lives and changing the world'. So we invite you to share and collaborate with us on our BRAVE journey. We will impart our knowledge and new discoveries, elevate discussion and inspire debate; all with the view to facilitate the betterment of our society. To find out more about the BRAVE series, please visit the Flinders website.
Be BRAVE, be bold, be at Flinders.
---