Flinders Research News

Researcher Mentoring - 2017 Launch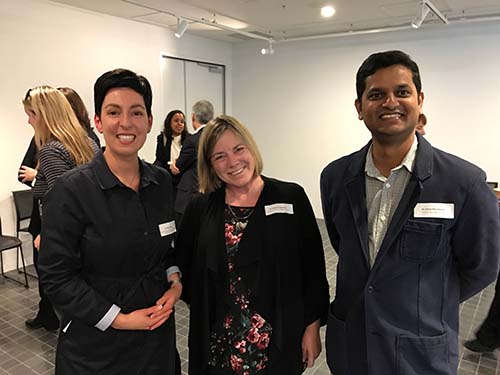 Dr Marina Delpin, Dr Angela Crettenden, andDr Ashok Manoharan
The 2017 Researcher Mentoring Scheme was launched on March 31 and welcomed new mentees and mentors to the year-long program.
Hosted by the Research Services Office, the launch provided an opportunity for Scheme participants and senior leadership to meet, mingle and learn more about the Scheme and the assistance it provides to Flinders' early-career researchers (ECRs). With most mentees and mentors in attendance, the event provided a relaxed environment for many matched participants to meet for the first time.
Professor Robert Saint, Deputy Vice-Chancellor (Research), welcomed guests and officially opened the 2017 scheme, by passing on good wishes to participants and thanks to all involved. A speech by Dr Marina Delpin, Project Manager of Flinders' Researcher Mentoring Scheme, followed and outlined the successes of the program to date and plans for the year ahead.
"This scheme aims to build research capacity and capability in our ECRs and those transitioning to mid-career status. Mentoring has assisted our ECRs by providing guidance on career planning and building successful collaborations and supportive alliances," Marina said.
Dr Jane Fischer, Dr Kendall Corbin, with launch guests.
"Now in its sixth year, the Mentoring Scheme will have cumulatively assisted more than 130 ECRs by year's end. It has provided a positive impact on publication output, success from grant applications and vastly improved strategies for leading and managing research teams, while establishing a positive culture of mentoring here at Flinders."
"This year, more researcher development opportunities are being offered to mentees to complement their mentoring experience. These events aim to promote a collegial, supportive environment for mentees and strengthen partnerships amongst their peers, plus upskill them in key areas that will fortify their research career at this critical stage – early- to mid-career."
"We are confident that this scheme, which is constantly evolving based on feedback from mentees and mentors, is delivering great outcomes for all involved."
This year's Scheme will continue to run for the remainder of the year with the program officially concluding in December.
---