Research Engagement and Impact

Assisting the UN and developing nations on how to measure wellbeing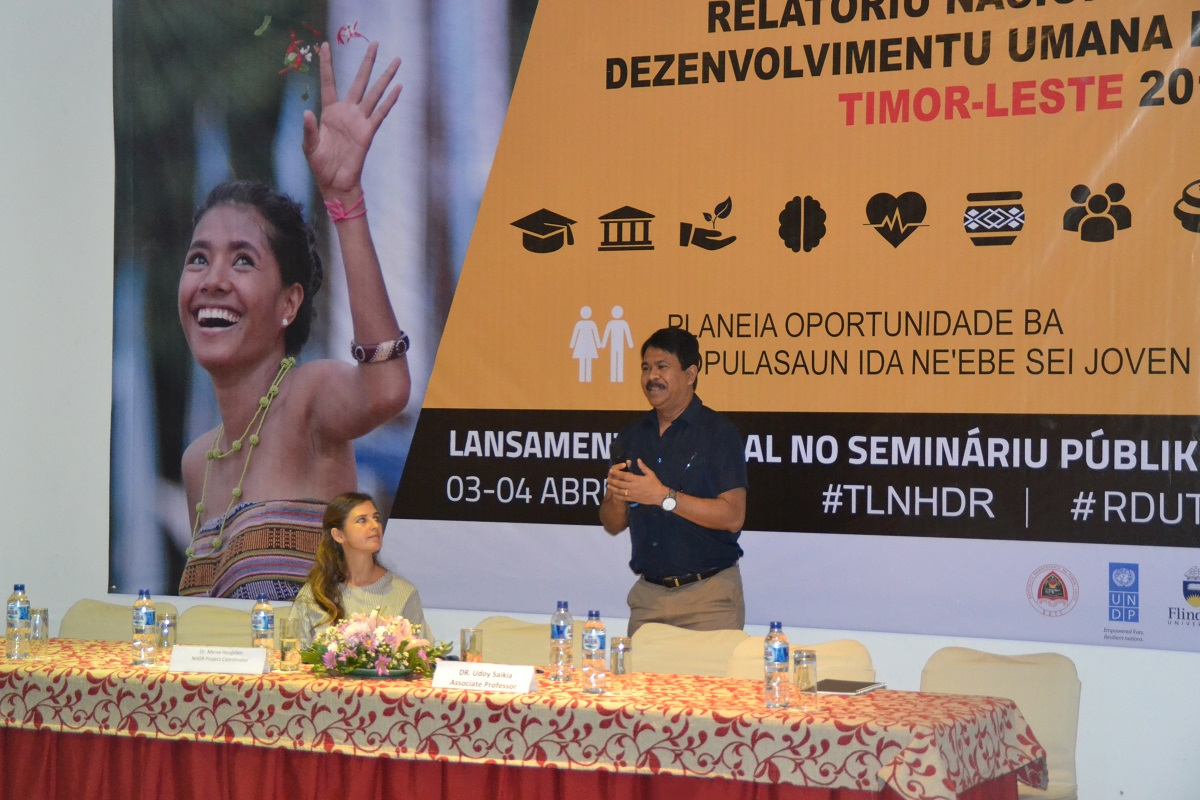 Udoy Saikia presenting the report findings to the members of local and international organisations in Dili, Timor-Leste.
Copyright: UNDP
Understanding population dynamics and how to measure their wellbeing both at individual and household level is key to Associate Professor Udoy Saikia's research. For the past two years Udoy and his team have been working with the United Nations Development Programme and the Government of Timor-Leste on Timor-Leste's Human Development Report 2018.
Around three-quarters of Timor-Leste's population is under 35 years old. The recently released report, a collaborative effort, recommended that the Timor-Leste government designate a quarter of its overall budget to education and training for their youth and to improve the development of their country.
"The 4th NHDR has been characterized by excellent collaboration between the Government of Timor-Leste, UNDP and academia through Flinders University. It provides a good example of how research and science can reach out to influence policies and development practice," said Roy Trivedy, the UN Resident Coordinator in Timor-Leste for United Nations Development Programme.
Further to the report, a paper 'Methods of Measuring Human Well-being and Human Development', has been included in Integrated Population Biology and Modelling, Part A, Volume 39, 1st Edition under Section V: Human Inequality Measures and Well Being. The paper by Udoy, Gouranga Dasvarma, and James Chalmers includes their research from Timor-Leste and from the Indian state of Assam. It presents innovations associated with the linkage of statistics to well-being and human development, in developing countries where there are links with international efforts to tackle multidimensional poverty.
The Timor-Leste National Human Development Report 2018, is the first time a UN Human Development Report at a national level has attempted to measure well-being, a subjective aspect of the quality-of-life, through developing a dedicated index.
"The Timor-Leste National Human Development Report 2018 is a timely and useful contribution to the policy debate on how to develop our country's greatest asset, the young people, and unlock their potential to harness this demographic opportunity for accelerated economic and human development gains," said the then Prime Minister Dr Marí Bim Amude Alkatiri.
---