Research Engagement and Impact

Students Present Around the World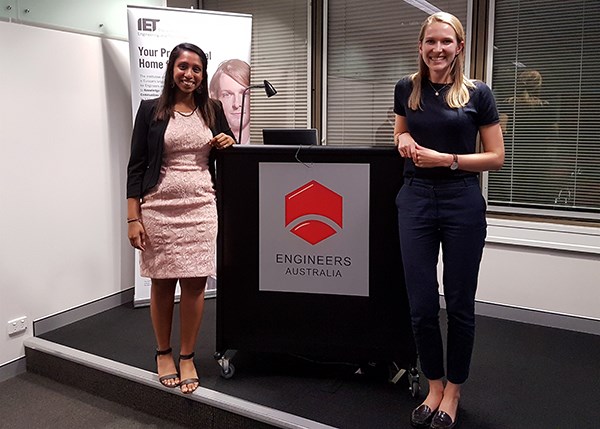 From left to right: Dhara Amin and Laura Gell
At the state final of the Present Around the World (PATW) competition, Flinders was represented by PhD students, Dhara Amin and Laura Gell. Dhara's talk on "Debunking myths about slipped discs" was judged the best talk by the panel of three judges. The event was held under the Joint Technical Program, the Institution of Engineering and Technology South Australia and the Northern Territory Local Network. Dhara will receive a fully funded trip to the national competition, the winner of which will present at Asia Pacific PATW Regional Final later in 2018. The Global competition will be held in London, UK.
Historically, the Flinders Engineering students have participated in the Student Papers Night for many years and have won the vast majority of events. Last year, Benjamin McCarl, who completed his Bachelor of Engineering (Biomedical), Master of Engineering (Biomedical) with a specialisation in the Mechanical Engineering stream in 2017, won the same event, and went on to be awarded second place at the National PATW Competition in 2017.
Laura, a 2017 Fresh Scientist, presented at PATW on her PhD research, "Sleep apnoea and the nightly battle to keep breathing".
"Laura delivered an excellent presentation and I'm proud of both of our students for delivering such high quality presentations to represent Flinders," said Associate Professor John Costi, College of Science and Engineering.
PATW is a competition to give young engineers the opportunity to enhance their presentation skills, conveying complex technical information to a mixed audience of technical and non-technical.
---