Research Engagement and Impact

Be Your Best for Impact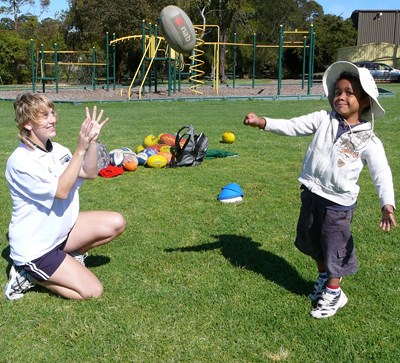 Research can not only engage directly with a community, but can then impact beyond the immediate academic research outputs to society in general. The Australian Research Council (ARC) defines Impact as: 'research impact is the contribution that research makes to economy, society and environment, beyond the contribution to academic research' in their guidelines for the ARC Pilot Engagement Study.(1) In our continuing series on the upcoming Excellence in Research Australia round, we now look at what impact research at Flinders has had, starting with the Flinders-Panthers Be Your Best Program.
The World Health Organisation (WHO) lists a lack of physical activity as one of the 10 leading risk factors for premature death worldwide. Figures presented in January 2015 by the WHO provide the frightening statistic that one in four adults is not active enough. The effects of insufficient physical activity include heightening the risk of cancer, diabetes and cardiovascular diseases.
To further compound the problem, epidemiological research in Australia shows insufficient physical activity is often found in communities in low-socioeconomic areas where its effects are heightened by poor nutrition. Both physical activity and poor nutrition are major modifiable risk factors in the reduction of a number of chronic lifestyle diseases such as obesity and diabetes. Research conducted by Professor Murray Drummond and the SHAPE (Sport, Health and Physical Education) team at Flinders University in partnership with a popular local sporting club, has designed and tested an innovative health project with schools in the local area to assist in modifying behaviours in young Australians and thereby promoting healthier choices.
The effects of engaging in increased physical activity for children go beyond the health outcomes listed for adults. Children and adolescents who undertake regular physical activity and enjoy good nutrition show greater personal responsibility and improved group cooperation than those who did not. Research conducted by Flinders SHAPE Centre showed child-focussed programs to enhance physical activity and improved nutrition were more successful when these activities were associated with inspirational individuals within a child's community. So they set out to use this research to improve lives.

The Flinders – Panthers Be Your Best program was designed to build on healthy living messages already in place at schools by regularly bringing fruit and vegetables, fun activities and local sports heroes (Panthers footballers) into the children's school environment to promote physical activity and good nutrition as positive lifestyle choices. Run by University students together with Panthers footballers, the program enjoyed phenomenal success with the children and their communities. School principals hosting the initiative were excited by the response it received from both the students themselves and the parents and teachers supporting them. Working with the footballers gave the program a degree of 'cool' that working with teachers and parents did not have. The Flinders – Panthers Be Your Best program had a different role from regular school lessons, namely the promotion of key lifestyle concepts with positive reinforcement. In that way the children could engage with role models on a peer-to-peer basis rather than in a teacher-student way. These interactions inspired the children to a healthier lifestyle because it was something they had seen someone they admired doing, and that being healthy was 'cool'.
"In terms of academic impact this research has resulted in a number of important research papers and international book chapters that will be accessed by scholars around the world to emulate the program in their own unique settings. From a practical and 'real life' perspective we have impacted the lives of several hundred children by changing attitudes and behaviours associated with physical activity and nutrition in regions where these aspects of health are poorest. Through sport, and by utilising sport and PE students as agents of change, we have also played a role in promoting children's awareness in these low socioeconomic localities that university is a 'cool' place to be. The potential to be interrupt the cycle of education attrition is a real prospect for families where higher education is not a high priority," said Murray.
In addition to the predicted outcomes of the program, working with University students had unforeseen positive consequences for the children involved. All schools involved in the initiative are located in low socio-economic areas with few positive career and educational opportunities. By giving the children regular and positive contact with University students from similar backgrounds, the idea that there was more to life than school and possible unemployment was invigorating to the participants. Teachers reported that students engaged with the program expressed significantly increased interest in attending high school and seeking tertiary education as a direct result of engaging with the Flinders students in the Flinders – Panthers Be Your Best program.
By connecting children with accessible sporting role models in an environment focused on healthy lifestyle choices, the Flinders – Panthers Be Your Best program has been a great success. SHAPE director, Murray, is working with the South Australian National Football League to expand the program into additional schools and working with additional football clubs in the future to bring the impact of the program to a greater part of the society.
For further Flinders Research Impact stories, see the Research Impact section. For assistance in creating a Flinders Research Impact case study, contact Dr Brodie Beales.
(1) ARC Pilot Study overview information - http://www.arc.gov.au/ei-pilot-overview
---