Research Engagement and Impact

Flinders working to Beat Cancer
Flinders researchers will be working with statewide, national and international partners to improve prevention, treatment and survivorship on gastrointestinal cancer, aim to reprogramme b-lymphocytes, use web-based psychological interventions to improve well-being for women with breast cancer, be an integral part of a new network for regional-rural cancer trials and continue to host a Beat Cancer Professor.
The latest round of the SA Beat Cancer projects have been announced with six Flinders' Chief Investigators being granted a Translational Research Package, an Early Career Cancer Research Fellowship, a Project Grant, two travel awards and continued funding for the Beat Cancer Professorial Chair at Flinders. Flinders researchers are also collaborating with other state partners on projects that were awarded in this round.
The Cancer Council SA has invested $7 million into Cancer Council's Beat Cancer Project over five years, which is being matched by SA Health, creating a pool of funds totalling $14 million—making it the single largest source of funding for cancer research and infrastructure within South Australia.
Translational Research Package
Professor David Watson, Flinders Centre for Innovation in Cancer (FCIC), and his team have been awarded $380,000 over three years for a Cancer Council SA Beat Cancer Project Translational Research Package. His project, Improving gastrointestinal cancer outcomes: prevention, treatment and survivorship, will develop and implement better and more cost-effective diagnostic and treatment pathways for oesophagogastric and colorectal cancer, the two major GI cancers in Australia.
The Beat Cancer Project Translational Research Package is based around a highly collaborative, translational research environment within the South Australian health system. The scheme aims to support the translation of that research into policy and practice for improved health outcomes of the community.
David and his team showcase the excellent collaborative environment within South Australia as the project involves Professor Chris Karapetis, Regional Director of Cancer Services for the Southern Adelaide Local Health Network; Professor Graham Young, FCIC; Professor Julie Ratcliffe, Professor of Health Economics at the Institute for Choice at UniSA; Professor Richard Woodman, Professor in Biostatistics and Epidemiology; Professor Bogda Koczwara, FCIC; Dr Erin Symonds, Southern Adelaide Local Health Network; Professor Richard Reed, Head of the Discipline of General Practice; Professor Robert Fraser, Professor of Gastroenterology and Hepatology; and Professor Ross McKinnon, Director, FCIC and Dean (Research) College of Medicine and Public Health.
Early Career Cancer Research Fellowship
Dr Lauren Thurgood was awarded a $240,000 SA Beat Cancer Project Early Career Cancer Research Fellowship for her project Metabolic reprogramming of B-lymphocytes in chronic lymphocytic leukemia: a new therapeutic strategy?.
"In this complex and difficult funding environment I feel truly appreciative of organisations like the Cancer Council that work hard generate research funding as well as the donors. I also appreciate the backing of the SA Department of Health for supporting medical research in SA," said Lauren.
Lauren's research findings to date have discovered how cells from a common blood cancer called Chronic lymphocytic leukemia (CLL) utilise energy sources to stay alive. With a median age at diagnosis of 70, it is a disease that will become more prevalent with Australia's aging population. The support from the Cancer Council will allow the preliminary work from the past 5-years to be further explored and translated to have benefits to patients. Such benefits include an understanding of what microscopic changes drive leukaemia that will predict disease course.
"We aim to develop new therapies that target energy pathways in a hope to slow or ultimately, halt cancer cell growth. The applicability of this work is so much wider than just blood cancers, as all cancers require superior energy requirements to thrive," said Lauren.
"This funding will ensure Flinders' continued recognition as having success in translationally driven cancer research. It will see fruitful collaborations at a local and national level with Institutes, Universities and hospitals ,as well as one of the largest cancer hospital/research centres in the world – The University of Texas MD Anderson Cancer Centre in Houston, USA."
Project Grant
Dr Lisa Beatty and her team have been awarded $75,000 SA Beat Cancer Project Grant for the project Can a web-based psychological intervention for women with advanced breast cancer improve well-being and reduce health care use? A randomised controlled trial.
"This funding will enable me to build on research that's been underway for 12 years – it's the first time that an online program has been developed for women with metastatic breast cancer. There is a high need for this unique world first program," said Lisa.
"This is a high impact project that, based on our previous research, has the potential for national and international reach. We are working together with the Breast Cancer Network of Australia and Cancer Council SA, along with Southern Adelaide Local Health Network so we will see fast translation into clinical and community practice."
The international project team includes Professor Bogda Koczwara, Professor Phyllis Butow - University of Sydney, Professor Afaf Girgis - University of New South Wales, Professor Penelope Schofield - Swinburne University of Technology, Professor Jane Turner - University of Queensland, Professor Nick Hulbert-Williams - University of Chester (UK), Dr Joseph Coll - University of Sydney, and Associate Professor Billingsley Kaamwa.
Travel Grants

Ms Ashleigh Hocking, Research Assistant at FCIC, has been awarded a Travel Grant to support her research into the treatment of mesothelioma.
Dr Emma Kemp, Research Associate at FCIC, has also been awarded a Travel Grant to further her research into the care needs of breast cancer survivors and their caregivers.
Beat Cancer Professorial Chair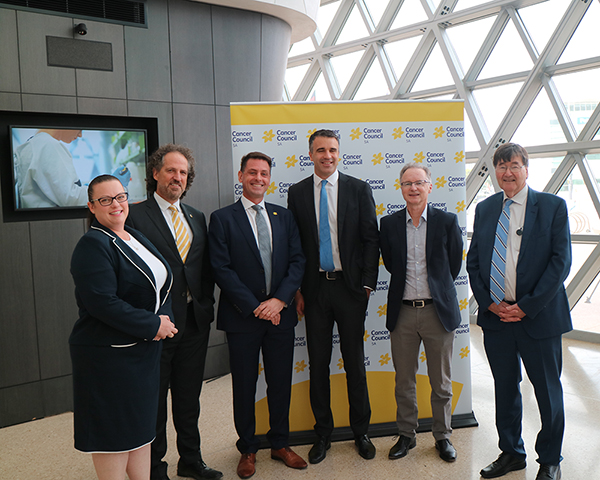 Launch of the 2018 Beat Cancer Project grants, (L-R): Alana Sparrow, Cancer Council SA General Manager, Services, Research and Public Policy; Professor Ross McKinnon, Flinders University; Lincoln Size, Cancer Council SA Chief Executive; The Hon Peter Malinauskas, Minister for Health; Professor Tim Hughes, SAHMRI; and Professor David Roder, University of South Australia
Professor Ross McKinnon, Director of FCIC, has received $1 million to continue his role as the Beat Cancer Professorial Chair for Flinders University. Ross will continue to work on innovative prevention, early intervention and treatment strategies for all cancers through looking at optimising drug therapy in solid tumours.
Clinical Trial Enhancement Grant
Dr Ganessan Kichenadasse and Professor Chris Karapetis from FCIC, are co-investigators on a $280,000 Clinical Trial Enhancement Grant (Network (SACTN)) led by Dr Dagmara Poprawski from Country Health SA. This Network will introduce a clinical cancer trial model to Mount Gambier Hospital in an effort to address the gap in access and availability of therapy options in country areas. Flinders Medical Centre will act as the primary site for patients participating in cancer trials, and the Mount Gambier Hospital will act as the satellite site.
"It is hoped that a pilot project will demonstrate successful implementation, with high standard of governance and quality of care. This will allow a future roll out of other regional and rural cancer centre sites to be inducted into this model. The lessons learnt will ensure that future care can be delivered in a seamless, coordinated, and high standard manner, including conventional and trial therapies," said Dagmara.
Since 2011, Cancer Council SA has partnered with SA Health, The University of Adelaide, Flinders University, the University of South Australia, and South Australia's flagship research facility, the South Australian Health and Medical Research Institute (SAHMRI) to fund Cancer Council's Beat Cancer Project.
---