Research Engagement and Impact

Flinders' Fresh Scientists in the Pub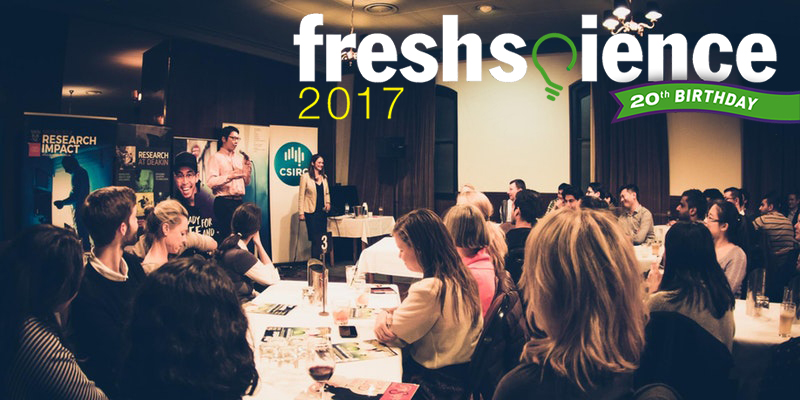 Research into identifying muscle activity that can stabilise breathing by Laura Gell, Medical Device Research Institute, and Katherine Morel's, Flinders Centre for Innovation in Cancer, research into protecting healthy tissue from radiotherapy has ensured that both have been named as 2017 Fresh Scientists from South Australia. Fresh Science is a national competition helping early-career researchers find, and then share, their stories of discovery. The program takes up-and-coming researchers with no media experience and turns them into spokespeople for science, giving them a taste of life in the limelight, with a day of media training and then the opportunity to showcase these new skills to school kids and the general public via two events.
About 200 SA school students will be invited to a free, one-hour forum at the South Australian Museum on 8 November to hear from the Fresh Scientists. Pub night will be held at the Lion Hotel in North Adelaide on 8 November. A crowd of around 90 science enthusiasts will be able to enjoy a beer and hear the 2017 Fresh Scientists reveal their discoveries, presenting their work in the time it takes a sparkler to burn down. Tickets are free, but bookings are essential – get yours here.
Over a million Australians suffer from sleep apnoea, repeatedly stopping breathing during sleep. Laura has found that by studying breathing effort and muscle activity around airway collapse and reopening, there is evidence of key changes in upper airway muscle activity that is considered to be important in stabilising breathing. "Understanding these mechanisms is vital in creating new, desperately needed treatment options for Obstructive Sleep Apnoea," said Laura.
Katherine is working on ways to limit the radiation-induced damage to near-by healthy tissues, which can result in significant side effects, for patients undergoing radiotherapy cancer treatment. "My work shows that a naturally occurring compound can protect healthy tissues from radiation-induced damage, while at the same time, doubling the cancer killing ability of radiotherapy," said Katherine.
Past Flinders scientists who have been selected include Dr Mona Awadalla and Stephanie Shepheard in 2016, and Dr Justin Chalker in 2015.

---