Research Engagement and Impact

Leading Drug and Alcohol researchers at Flinders' NCETA secure $1.7 million in funding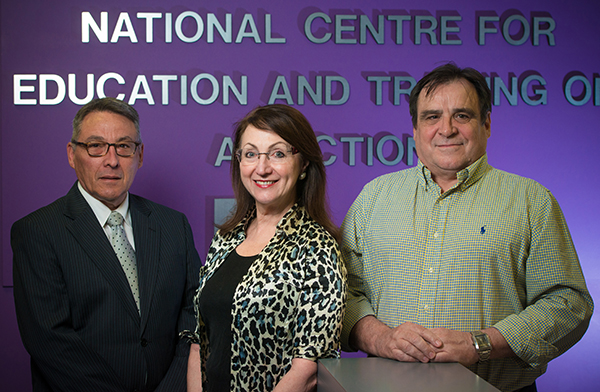 From left to right: Mr Allan Trifonoff, Professor Ann Roche, and Associate Professor Ken Pidd
How to reduce the prevalence and severity of drug and alcohol use in Australian communities? On the back of $1.7 million in funding awarded to NCETA, the team based at Flinders University aims to investigate this key question. Additionally, the project aims to enhance the sector's capacity to undertake research to inform national efforts to address substance use and to enhance knowledge on treatment approaches, including innovative models, for emerging drugs of concern.
The funding, from the Australian Government Drug and Alcohol Program, continues to place Flinders University at the forefront of Australia Alcohol and Other Drug (AOD) research.
Director of NCETA, Professor Ann Roche, said that their centre will "use its well established relationships and co-designed research activities to support greater linkages between AOD treatment, mental health services and the Primary Health Networks to develop and disseminate high-quality AOD research… these links will assist the Centre to undertake its program of work and assist Flinders to continue to build its local, national and international profile."
The Drug and Alcohol Program supports the Australian Government's continued commitment to building safe and healthy communities by reducing the impact of drug and alcohol use to individuals, families and communities. NCETA was established more than 25 years ago. Details on the Centre's research impact, research activities and highlights can be accessed at
NCETA
.
---