Research Engagement and Impact

ECR Spotlight - Vishnu KK Nair

Imagine you are driving on a busy road and trying to pull over to a safe place whilst avoiding multiple road distractions. If you speak multiple languages, you are more likely to stay focused, ignore the distractions and succeed.
The advantages of speaking a language in addition to your native tongue have been known for some time. Recent research has revealed that the benefits of bilingualism may extend even further. Individuals have been observed to possess heightened cognitive abilities, including focused attention and inhibiting distracting information – skills that are critical for our everyday, increasingly complex lives. These studies to date, however, have failed to control for Socio Economic Status (SES) and literacy - factors that can drive superior cognitive abilities.
Our study addressed this knowledge gap by testing a group of illiterate bilinguals from low SES. Through comparing their performance on cognitive tasks to illiterate monolinguals from low SES, we found that bilingualism has a positive effect on cognitive abilities, with that group demonstrating significantly higher cognitive performance.
As bilingualism bestows positive effects over and above the effects of SES and literacy, we recommend that there is a need for maintaining bilingualism for individuals living in low SES circumstances. Bilingualism may be the only single life factor that can provide cognitive benefits for these individuals compared to higher SES bilinguals, who can be exposed to a number of positive life experiences for cognition, such as playing video games and learning music.
More information about this finding can be found in my article, co-authored with Dr Britta Biedermann and Professor Lyndsey Nickels, Effect of socio-economic status on cognitive control in non-literate bilingual speakers published by Bilingualism, Language and Cognition.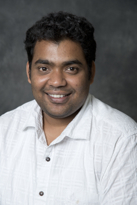 Dr Vishnu KK Nair
Dr Vishnu KK Nair is a Cognitive Scientist with a background training in Speech Pathology. He is currently a Lecturer in Speech Pathology. Vishnu is interested in examining the effects of bilingualism on cognitive and linguistic processing in bi/multilingual healthy individuals and individuals with aphasia. This research area is highly interdisciplinary and combines related fields such as cognitive neuropsycholgy, experimental psychology, psycholinguistics and speech pathology. He is also an Associate Investigator at the ARC Centre of Excellence in Cognition and its Disorders, Macquarie University.
Role: Lecturer in Speech Pathology
College: Nursing and Health Sciences
Campus: Bedford Park
E: vishnu.nair@flinders.edu.au
T: +61 8 7221 8837
This is a new feature for Inspiring Research where we profile Flinders' Early Career Researchers (ECRs) in our ECR Spotlight. This initiative will appear regularly and aims to connect our research community and strengthen research communications within the University. You will get insight into who our ECRs are and how their research and achievements are making a difference.
The featured ECRs welcome dialogue, debate, and conversation and we hope that it may shape future intra-, inter- and/or trans-disciplinary collaboration with Flinders' colleagues. Please feel free to comment on their spotlight, and/or contact them directly. Also, you can contact the ECR Spotlight coordinator, Dr Marina Delpin, with your queries and comments.
---