Research Engagement and Impact

From workshop to book - Underwater archaeology and 3D
What to do after holding a well-attended international workshop at Flinders? Get a grant so that papers from the workshop can be shared with the rest of the international community, of course.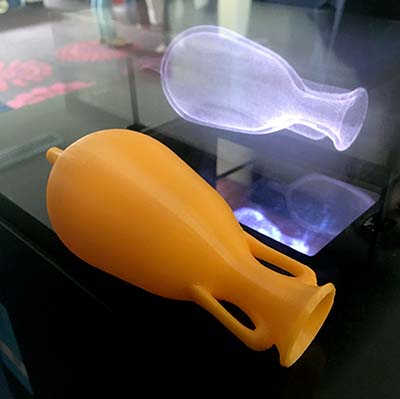 3D model and hologram of maritime archaeology
on show at the UNITWIN workshop
This is what Jonathan Benjamin and Wendy Van Duivenvoorde, School of Archaeology, have been successful in achieving. They have been awarded $12,208 from the Honor Frost Foundation (HFF) Maritime Archaeology Research grant for the production of an international, peer reviewed monograph.
HFF is aimed predominately at supporting maritime archaeology in the eastern Mediterranean. They also offer small grant awards that support the development of regional research, regional capacity building, and developing the discipline. The creation of a peer reviewed monograph from papers based upon, but not limited to, the workshop held on 24 and 25 November 2016 at Flinders.
"The papers presented will form the core of an international, peer reviewed edited volume. Other international specialists who were not able to make the workshop have been invited to contribute to add to the quality papers from the workshop," said Jonathan.
The workshop included speakers from France, South Korea, UK, Egypt, and Australia (local and interstate) and was a UNESCO UNITWIN workshop. UNESCO is the United Nationals Educational, Scientific and Cultural Organization, with UNITWIN being the abbreviation for the University Twinning and Networking Programme under UNESCO.
The aim of UNITWIN is to build university networks and encourage inter-university cooperation through the transfer of knowledge across borders. Flinders is the current Chair Holder of the UNITWIN Maritime Archaeology network.
The deadline for paper/chapter submissions is 1 April 2017 to john.mccarthy@flinders.edu.au. The aim is for the book launch to be held by late 2018.
---