Research Engagement and Impact

ECR Spotlight - Ashokkumar Manoharan

Australia has seen a steady inflow of immigrants who are finding employment in the hotel sector, leading to these workplaces having a high ethnic diversity of staff. In spite of legislative measures that prevent discrimination, hotels still need to implement appropriate diversity management practices to manage this workforce. In doing so, workplaces can maximise the advantages of employee diversity. So, how are the successful hotels doing it?
I research how Australian medium-sized hotels manage ethnically diverse employees. These hotels, which employ 20 – 199 staff, contribute to 35% of the industry value, but are underrepresented in research.
My research revealed that hotel general managers use self-initiated informal diversity management practices. These include informal recruitment, training and development, and performance management practices. For instance managers used 'shadow system' training, whereby ethnically diverse new employees were paired with employees from a similar ethnic background - this led to improved workplace operational skills.
While it is interesting to note that ethnically diverse employees are managed through informal practices, it is important that these practices be formalised so that they can be sustained over the long-term, regardless of management turnover. When informal diversity practices are effective, we encourage these practices to be recorded for the long-term benefit of the hotel. By doing so, a better quality of service can maximised and challenges, such as employee turnover, can be minimised.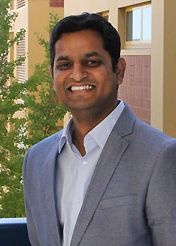 Dr Ashokkumar Manoharan
Dr Ashokkumar Manoharan is a Lecturer in Strategic Management in Flinders Business, College of Business, Government and Law. Ashok has an interdisciplinary educational background including a PhD in Management from UniSA and an MBA, M.Sc., and Bachelors in Hotel Management. His research area focuses on organisational culture, workforce diversity and diversity management with a particular emphasis on cultural diversity in the Australian hospitality industry. One of Ashok's articles on managing ethnic diverse employees in Australian hotel industry can be found at Science Direct.
T: 8201 2838
E: ashokkumar.manoharan@flinders.edu.au
Campus: Bedford Park
College: Business, Government and Law
Role: Lecturer in Strategic Management
This is a new feature for Inspiring Research where we profile Flinders' Early Career Researchers (ECRs) in our ECR Spotlight. This initiative will appear regularly and aims to connect our research community and strengthen research communications within the University. You will get insight into who our ECRs are and how their research and achievements are making a difference.
The featured ECRs welcome dialogue, debate, and conversation and we hope that it may shape future intra-, inter- and/or trans-disciplinary collaboration with Flinders' colleagues. Please feel free to comment on their spotlight, and/or contact them directly. Also, you can contact the ECR Spotlight coordinator, Dr Marina Delpin, with your queries and comments.
---