Research Engagement and Impact

Finding the invisible traces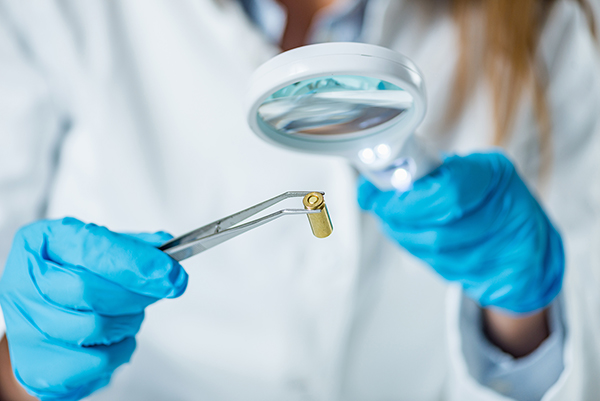 Many crimes result in deposition of DNA and body fluid stains that are invisible to the crime scene investigator. As a result, evidence collection is blind and hit and miss.
Professor Adrian Linacre (CSE) and Professor Paul Kirkbride (CSE) are aiming to take their breakthrough technique that currently allows visualization of invisible DNA (latent DNA) on "convenient" surfaces such as a glass microscope slide and turn it into into a quick and inexpensive prototype method ready for transferral to forensic casework.
This will allow DNA traces to be seen on crime items and will result in a greater "hit rate" in recovering latent DNA deposited during crime.
With the exception of fingerprint examination, DNA profiling is arguably the most important technique available to forensic science. It is employed by all forensic agencies in Australia and New Zealand and deals directly with who was involved in a crime, rather than providing circumstantial evidence.
This project will deliver an inexpensive and practical DNA collection capability that will lead to DNA evidence being available in more cases. Crime items that currently yield no genetic information will now be informative, assisting investigations of serious crimes or terrorist incidents.
Adrian and Paul's project Visualisation of latent DNA was awarded $106,705 from the Australian Research Council (ARC) in the last Linkage Grant announcement. They will be working with industry partners Forensic Science SA and The Australia New Zealand Policing Advisory Agency-National Institute of Forensic Sciences.
Forensic Science SA (FSSA) exists to provide cost-effective, efficient and independent, high quality expert scientific and medico-legal evidence, opinion and information to the justice system and community of South Australia. FSSA and Flinders have a long association, through co-supervision of Honours, doctoral and post-doctoral projects with direct relevance to FSSA.
The Australia New Zealand Policing Advisory Agency-National Institute of Forensic Science (ANZPAA NIFS) is recognised as the peak body for forensic science in Australia and New Zealand and, amongst other functions, deals with innovation and education and training in the forensic sciences at the national level. ANZPAA NIFS also works with other national bodies, such as the Australia and New Zealand Forensic Science Society (ANZFSS) of which Adrian is the National President. Adrian and the ANZPAA NIFS Director work together to develop forensic science standards through Standards Australia. ANZPAA NIFS have developed a Research and Innovation Roadmap that will be used to guide future investment in forensic science across Australia and New Zealand. The Roadmap included stakeholder engagement (forensic science service providers, tertiary education institutions and forensic technology providers) in the creation of key areas of focus, including specific research questions including - Could a technique be developed to identify the presence of skin cells on large items/areas that could be sampled for DNA analysis?
---