Research Engagement and Impact

ECR Spotlight - Alice Clement

The first animals that crawled out of water and onto land – the greatest step in evolution - had many obstacles to overcome. Multiple physical changes had to occur for these vertebrates to survive on land, including developing limbs from fins, having lungs with which to breathe air and the first appearance of fingers and toes.
The many anatomical changes to their skeleton have been well-studied, but there is less known about the changes in the brain that accompanied this transition. This group of fish are some of our earliest ancestors, and identifying changes in the shape of their brains goes in part to understanding our very own evolutionary history.
Changes in brain shape reflect reliance on various sensory abilities, and can help pinpoint the origins of certain behaviours. For example, some dinosaur skulls show "flight-ready" adaptations (large expansions for regions relating to information processing and motor control), suggesting that these dinosaurs had already evolved the capability for flight before the origin of birds. My research aims to identify similar changes at the critical juncture as fish moved from water to land, using modern scanning technology and 3D modelling software in conjunction with exceptionally-preserved 3D fossil material and living fishes. So far we have revealed that the trends that characterise lungfish brains today can be traced all the way back to the Devonian, over 400 million years ago.

Alice's article describing the new technique for reconstructing brains in fossil animals can be accessed at Royal Society Open Science.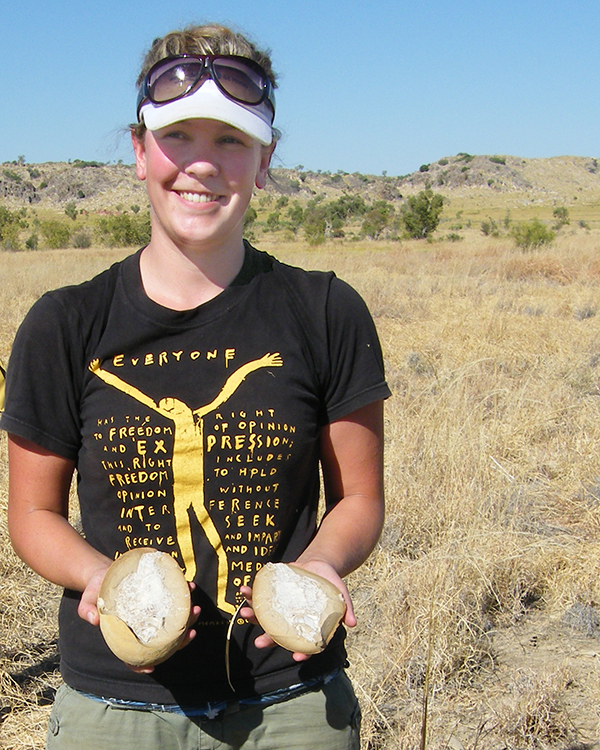 Dr Alice Clement

Dr Alice Clement is a Postdoctoral Research Associate in the Vertebrate Palaeontology Group at Flinders University. Her current research focusses on the first terrestrial vertebrates and their closest fish relatives. Alice uses exceptionally-preserved three-dimensional (3D) fossils from the Devonian "Age of Fishes" as well as living fishes to identify changes in the bodies of these animals as they made the greatest step in evolution, the first transition from water to land almost 400 million years ago.
Role: Postdoctoral Research Associate
College: Science and Engineering
Campus: Bedford Park
E: alice.clement@flinders.edu.au
T: +61 8 8201 3498
This is a new feature for Inspiring Research where we profile Flinders' Early Career Researchers (ECRs) in our ECR Spotlight. This initiative will appear regularly and aims to connect our research community and strengthen research communications within the University. You will get insight into who our ECRs are and how their research and achievements are making a difference.
The featured ECRs welcome dialogue, debate, and conversation and we hope that it may shape future intra-, inter- and/or trans-disciplinary collaboration with Flinders' colleagues. Please feel free to comment on their spotlight, and/or contact them directly. Also, you can contact the ECR Spotlight coordinator, Dr Marina Delpin, with your queries and comments.
---