Research Engagement and Impact

Scimex - Register now to be a part of breaking news

Are you a researcher who realises the importance of sharing your research with a wider audience? Maybe you've seen your field of science misrepresented or badly reported in the news. Would you like to be heard when your field of expertise hits the news? Scimex enables researchers to communicate science to the public through the media and is free for experts.
Since it's launch in 2015, Scimex has enabled researchers and journalists to collaborate on effectively communicating research science to a variety of audiences. "SciMex provides a direct link to journalists," said Annie Hastwell, Journalist at the Australian Science Media Centre. "More than 1500 national and international journalists use this database as their first point of call to find scientific experts for media interview and comment."
Registering for Scimex is easy, and for those already registered now is the time to update your profile, ready for a new year of amazing discoveries and stories to tell. "Being registered significantly increases your chance to comment on breaking news and be quoted in the media," said Annie. "When research experts sign up to our database, we will reach out to them whenever their field of expertise is in the news to ask them to provide comment for Expert Reactions. We monitor the coverage these comments receive and keep the researchers informed."
Scimex has an easy to follow registration process where you create your own expert profile listing, and you can promote your research to journalists and add events to the Scimex event listing. Below is an example of an Expert Profile, courtesy of Scimex.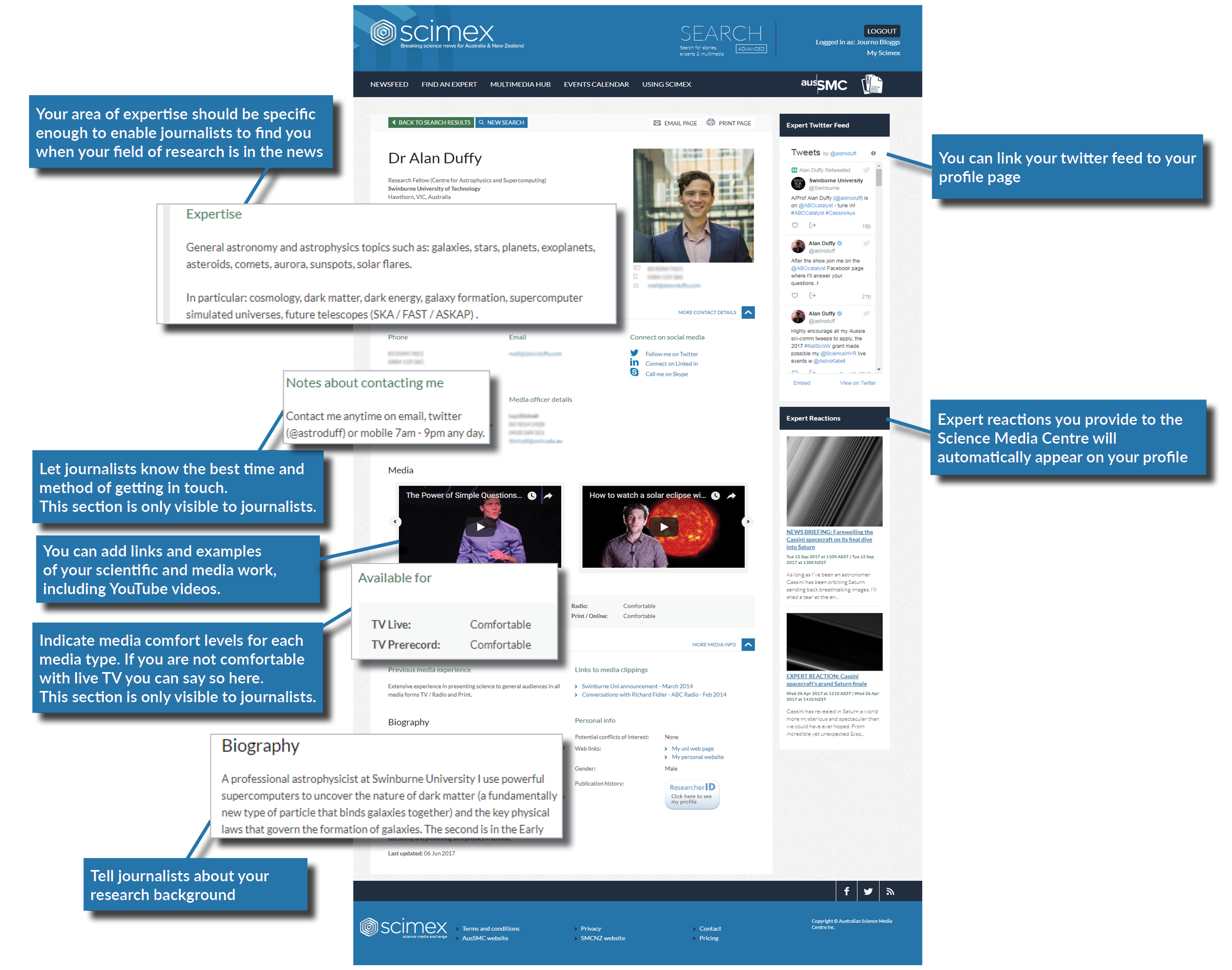 The Flinders Media Officer contact is Tania Bawden, Journalist (Research) Office of Communication and Engagement. Tania can also be contacted via mobile on 0434 101 516. Karen Ashford, Director - Media and Communications in the Office of Communication and Engagement, can also be contacted for assistance and advice in media training (M: 0427 398 713).
Where to go if you are contacted by the media?
The Office of Communication and Engagement at Flinders offers media training in group and one-on-one sessions. Contact the Office of Communication and Engagement as your first point of call if you have been contacted by the media.

Other handy media links
The Conversation has experienced journalists and editors who can provide assistance and advice to those wanting to start out or improve their writing communication skills in respect to print media. Flinders is a supporter of The Conversation and encourages our academics to get involved.
The Media Centre for Education Research Australia (MCERA) assists in improving the quality of research-informed education reporting.
Science Media Savvy provides some excellent top tips for researchers.
RiAus
, based here in Adelaide, and
Science in Public
run workshops on media training throughout the year around Australia.
---