Research Engagement and Impact

Indigenous knowledge, not just for Indigenous communities

TEDxAdelaide 2017 brings together a stellar line-up as the event zooms out and showcases the power of Adelaide's big ideas on the famous red dot. One of those big ideas is from Flinders Master in Archaeology and Heritage Management student Jacinta Koolmatrie.
Jacinta will be exploring Indigenous knowledge systems and why they are not just something that is specific for Indigenous communities, but rather the world. "Doing this means a lot to me because TEDxAdelaide has a global platform and Indigenous knowledge has always been viewed as something solely for Indigenous people. I want to show people that our stories aren't simply stories," said Jacinta.
Her research at Flinders has focused on yura malka (rock-face drawings), working with the Adnyamathanha elders and community to add their perspectives to her research. Jacinta is an Adnyamathanha and Ngarrindjeri person, (Adnyamathanha hail from the Flinders Ranges, Ngarrindjeri from The Coorong). Yura malka do more than describe events or places – they are part of a system of complex signs that map a cultural landscape.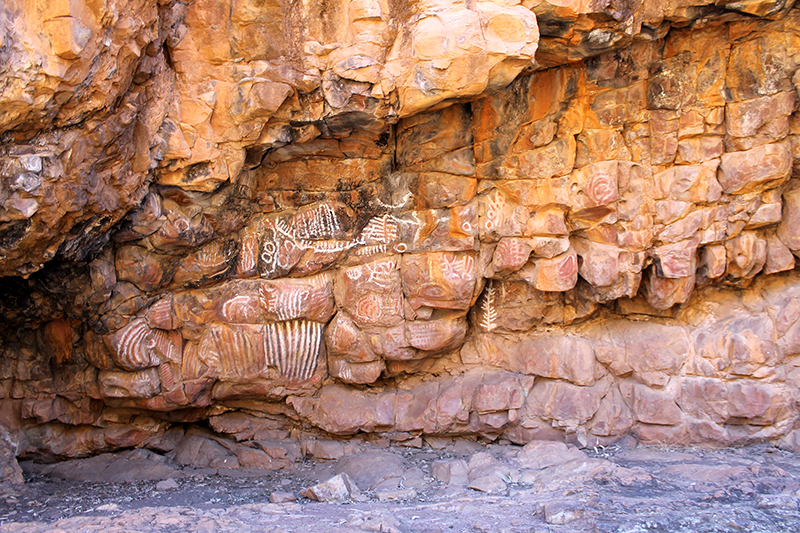 Yura Malka (rock paintings) at Malkai, Northern Flinders Ranges, SA. Photograph by Jacinta Koolmatrie.
As 2016 Ken Wanganeen medallist at Flinders, awarded to the Indigenous student with the highest Grade Point Average in the final two years of their undergraduate degree, and a recent cadetship with the South Australian Museum, this selection as a speaker at TEDxAdelaide 2017 is another feather in the cap of Jacinta's achievements. The event will be held on Thursday 2 November at Adelaide Town Hall.
Encouraging a different view of the world around us, the 'Zoom Out' themed event also welcomes artist Sarah K Reece on what we can learn from a chronic over sharer, surgeon Tarik Sammour reveals solutions for a healthcare system already under pressure and trainer and coach Annie Harvey teaches us to laugh ourselves happy.
"This year we introduce the most diverse set of ideas and their speakers to the TEDxAdelaide stage", TEDxAdelaide Licencee Robin Freeth said. "This event is for those who care about our future, to help spread ideas and encourage them to grow. It's also an opportunity to meet others and to share your own ideas for Adelaide and beyond."
TEDxAdelaide is also excited to introduce 'The Business Hive', an interactive breakout space, brought to by their partner BankSA, giving South Australian businesses the opportunity to showcase a unique product or service.
Tickets to TEDxAdelaide 2017 are selling fast. To purchase visit the eventbrite page. For the latest news and information visit tedxadelaide.com.au. For updates visit TEDxAdelaide.com.au or to follow TEDxAdelaide on Twitter at @TEDxAdelaide, or on Facebook at www.facebook.com/TEDxAdelaide.
---