Research Engagement and Impact

ECR Spotlight - Dr Ashok Manoharan 2018

Diversity and diversity management research interests scholars, practitioners and policy makers. Workforce diversity and its management has been central to research across all disciplines. It's even more important in the context of the hospitality industry and can advise them on how to liaise with customers from all corners of the globe.
At a scholarly level, in spite of the interest and uptake by researchers the number of articles published in hospitality journals indicates these topics are in their infancy. Given the importance of the topic and its impact to policy and practice, it is vital to collate and integrate previous studies, present trends and identify gaps.
Dr Manoharan published one of the first systematic reviews focused on diversity and diversity management literature in hospitality that covered a period of 28 years (1990 – early 2017), in collaboration with Associate Professor Manisha Singal, Pamplin College of Business, Virginia Tech, USA. It has provided a "one stop shop" to understand diversity and diversity management research and offer detailed directions for future research. Analyses of the literature revealed that the top three research areas in (i) diversity are, gender, age and migrants, and (ii) diversity management, are diversity practices, diversity training and managing migrants. The articles were reviewed in relation to journals and years published to understand trends. In addition, the nature of research, theories and frameworks used were reviewed to understand methodologies and various theoretical lenses.
Our review has identified what is not known and what gaps exist in the literature around these topics, and has informed my own research program. A number of future research directions in the context of hospitality include (1) expansion of themes, (2) theory based research, (3) methodological improvements, (4) geographical extension, and (5) improved practical implications.
Ashok's systematic review of research on diversity and diversity management can be found at Science Direct.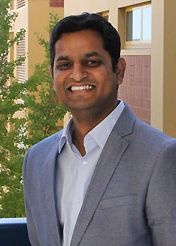 Dr Ashokkumar Manoharan
Dr Ashokkumar Manoharan is a Lecturer in Strategic Management in Flinders Business, College of Business, Government and Law. Ashok has an interdisciplinary educational background including a PhD in Management from UniSA and an MBA, M.Sc., and Bachelors in Hotel Management. His research area focuses on organisational culture, workforce diversity and diversity management with a particular emphasis on cultural diversity in the Australian hospitality industry.
T: 8201 2838
E: ashokkumar.manoharan@flinders.edu.au
Campus: Bedford Park
College: Business, Government and Law
Role: Lecturer in Strategic Management
This is a feature for Inspiring Research where we profile Flinders' Early Career Researchers (ECRs) in our ECR Spotlight. This initiative appears regularly and aims to connect our research community and strengthen research communications within the University. You will get insight into who our ECRs are and how their research and achievements are making a difference.
The featured ECRs welcome dialogue, debate, and conversation and we hope that it may shape future intra-, inter- and/or trans-disciplinary collaboration with Flinders' colleagues. Please feel free to comment on their spotlight, and/or contact them directly. Also, you can contact the ECR Spotlight coordinator, Dr Marina Delpin, with your queries and comments.
---