Research Engagement and Impact

ECR Spotlight - Ian Moffat

Human evolution occurred during a period of remarkable climate variation - in which temperatures, oceans and rainfall rose and fell dramatically. Grappling with the challenges of environmental change would have influenced the behavioural development of early humans. However, correlating climate records with archaeological material is difficult due to the uncertainties inherent in many dating techniques.
Current research by Ian Moffat is addressing this gap, through the development of new methods to extract climate information directly from sediments in archaeological rock shelters. Innovative techniques from the earth sciences, including geophysics and geochemistry, are being used on rock shelter sites with long histories of hominin occupation in South Africa and Indonesia.
This research has already shown that the subsurface of these cave sites can be mapped to better understand their depositional history. Sediments collected from caves are yielding a plethora of information about the intensity of human occupation and the associated environmental conditions. These data promise to provide valuable information about the impact of past climate on each site. A recent successful ARC LIEF application by a consortium of partners, including Flinders University, will establish a new facility that will further develop this research by analysing the isotope composition of plant fossils associated with the rock shelter sediments.
Ian has recently written about how geophysical and geochemical methods can be used in digital geoarchaeology.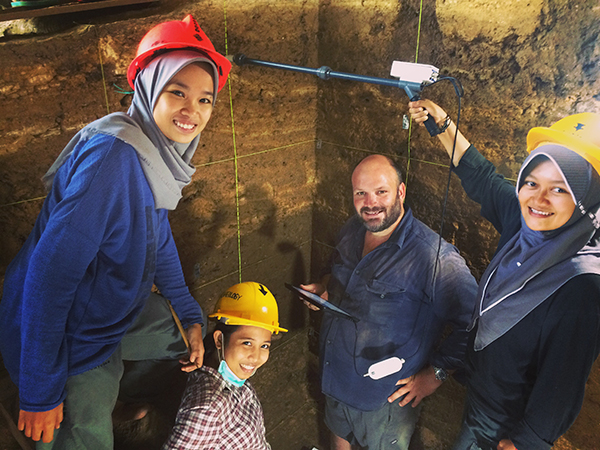 Dr Ian Moffat

Dr Ian Moffat is an Australian Research Council DECRA Research Fellow in Archaeological Science at Flinders University. Ian's research is focused on applying earth science techniques to archaeology. His current projects including examining the mobility of hominin prey in Palaeolithic Israel and France, trialling new methods for imaging shipwrecks on the Murray River, mapping rock art sites in 3D in Arnhem Land and understanding the timing and environmental context of the transition to pastoralism in Mongolia.
Role: ARC DECRA Research Fellow in Archaeological Science
College: Humanities, Arts and Social Sciences
Campus: Bedford Park
E: ian.moffat@flinders.edu.au
T: +61 8 8201 5905
This is a new feature for Inspiring Research where we profile Flinders' Early Career Researchers (ECRs) in our ECR Spotlight. This initiative will appear regularly and aims to connect our research community and strengthen research communications within the University. You will get insight into who our ECRs are and how their research and achievements are making a difference.
The featured ECRs welcome dialogue, debate, and conversation and we hope that it may shape future intra-, inter- and/or trans-disciplinary collaboration with Flinders' colleagues. Please feel free to comment on their spotlight, and/or contact them directly. Also, you can contact the ECR Spotlight coordinator, Dr Marina Delpin, with your queries and comments.
---