Research Engagement and Impact

ECR Spotlight - Sam Schultz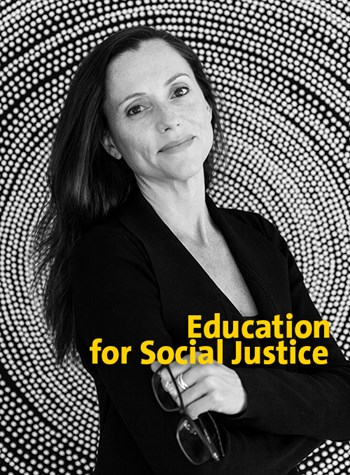 Education institutions worldwide are undergoing swift transformation under the influence of neoliberalism. These moves constitute a retreat from social justice, as equity agendas are being subsumed by discourses of excellence and entrepreneurism. This presents as socially and politically benign, yet the transformations we are witnessing within and beyond sites of education are neither neutral, nor benign, but give rise to raced consequences, among others. This has implications for how teaching for social justice plays out in schools and universities.
My work with pre-service Australian teachers and higher degree research candidates leads them to examine local and global relations of race, class and gender, and how these dynamics work through schools, teachers and of modes knowledge production. My research centres on the entwined phenomena of 'race' and whiteness, and asks how racism in its complex contemporary forms might be transformed through education. Racism in this sense operates at multiple sites, via sophisticated means. Areas I specifically pursue, include the contemporary phenomena of super-wealth, voluntourism, remote Indigenous Education, and ethical internationalism of higher education.
To read a recent publication that explores questions of race and whiteness, please see my paper published in the Journal Race, Ethnicity and Education.
Dr Sam Schultz
Dr Sam Schulz is a lecturer in the sociology of education, coordinator of the Graduate Diploma in Research Methods, former teacher in South Australia's Anangu Pitjantjatjara Yankunytjatjara (APY) Lands, and editor of the Journal Critical Race and Whiteness Studies. Sam's core teaching comprises qualitative research methodologies and critical approaches to education. Her research includes; race and whiteness studies, super-wealth, ethical internationalism of higher education, and teaching for social justice. As a core body of work, Sam has explored cultural reproductions of race using white governmentality as a conceptual lens, and is extending this work to explore intersections between neoliberalism, education, and the global phenomena of voluntourism and tertiary mobility encounters.
T: 8210 5459
E: samantha.schulz@flinders.edu.au
Campus: Bedford Park
College: Education, Psychology and Social Work
Role: Lecturer, Sociology of Education
This is a new feature for Inspiring Research where we profile Flinders' Early Career Researchers (ECRs) in our ECR Spotlight. This initiative will appear regularly and aims to connect our research community and strengthen research communications within the University. You will get insight into who our ECRs are and how their research and achievements are making a difference.
The featured ECRs welcome dialogue, debate, and conversation and we hope that it may shape future intra-, inter- and/or trans-disciplinary collaboration with Flinders' colleagues. Please feel free to comment on their spotlight, and/or contact them directly. Also, you can contact the ECR Spotlight coordinator, Dr Marina Delpin, with your queries and comments.
---