Seminars Conferences and Workshops

Artificial Intelligence Mission (AIM) to the US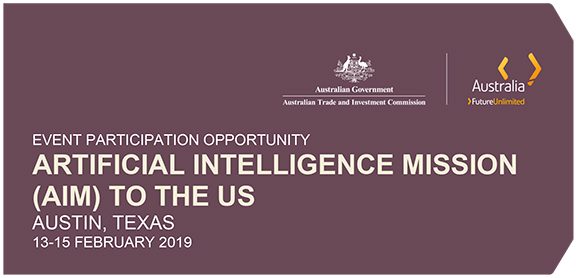 The AUTM Conference, an assembly of international academic technology transfer professionals, is taking place in Austin, Texas from 10-13 February 2019. Austin has become one of the fastest growing tech hubs in the US with competitive strengths in Artificial Intelligence (AI), machine learning, and big data.
Following the AUTM Conference, Austrade Americas will be hosting a strategic 2-day program from 13-15 February 2019 for Australian researchers and technology transfer professionals to learn and connect with Austin's vibrant AI ecosystem. Meetings will include a variety of potential investors and collaborators across industry, academic, and philanthropy. Examples of meetings include Dell and the University of Texas at Austin.
For detailed information about this event and the participation package, please refer to the event brochure (pdf). The Application deadline to participate is 29 January 2019.

Additional information is available from the Association of University Technology Managers (AUTM)
For more information please contact Elizabeth Bucknor, Education Partnership Director, Austrade Washington, DC via elizabeth.bucknor@austrade.gov.au.

---