Seminars Conferences and Workshops

STEM at the Tav - Free food, cheap drinks, great disscussions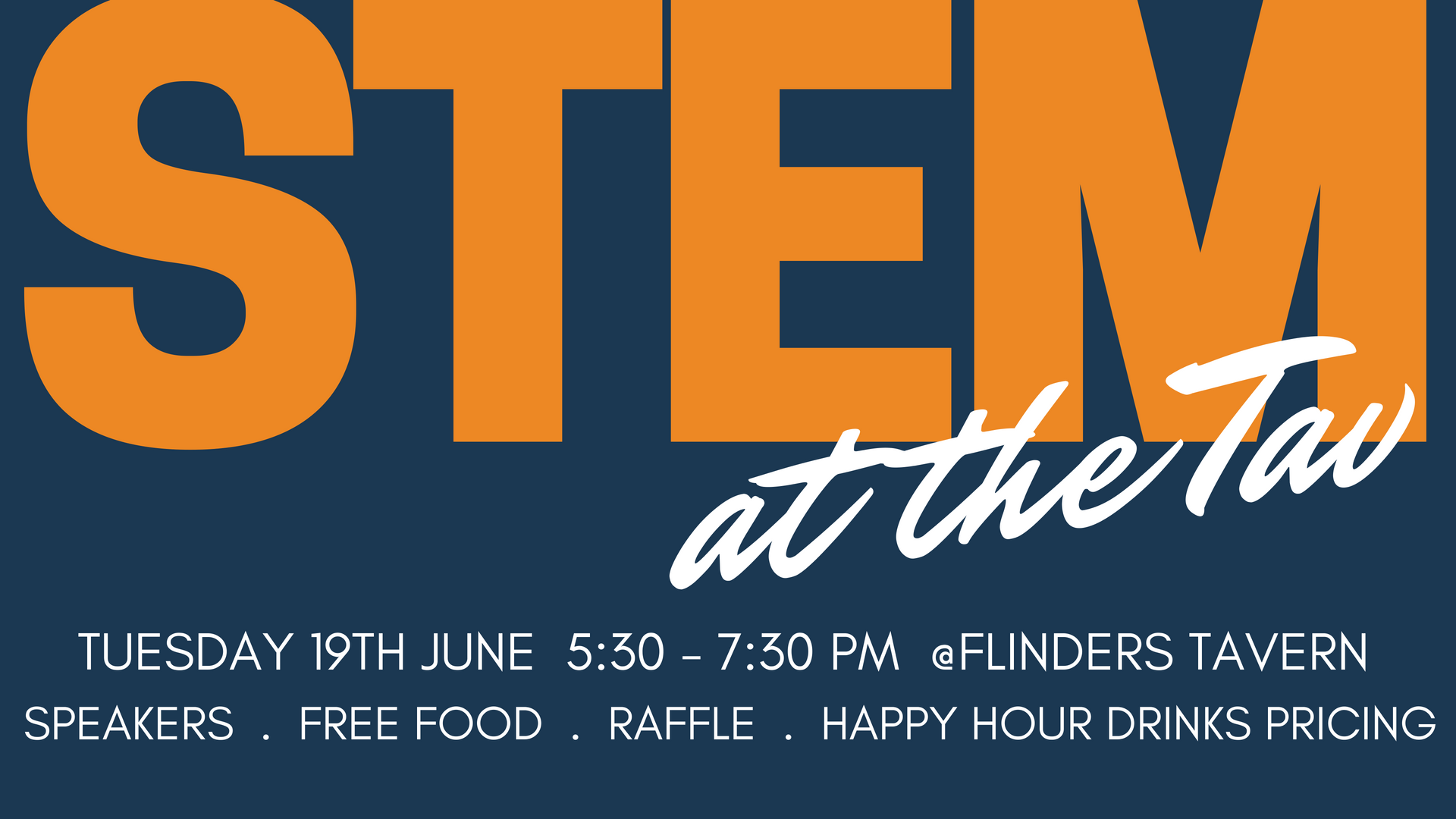 Do you want to hear 10 minute TED style talks at the Tavern with free food, raffles and discounted drinks? The College of Science and Engineering student clubs and associations, in collaboration with academic staff from the College have set up a monthly STEM at the Tav event at Flinders.
Science and Engineering Researchers will be giving talks on their topic of choice, followed by a panel discussion, in an informal and fun atmosphere. STEM at the Tav is on Tuesday, 19 June 2018 from 5:30 PM to 7:30 PM. This month's event is loosely themed 'Sustainability and Engineering' and will include the following talks:
Dr Stuart Wildy: Is a $1.60 too much to pay for petrol, when a sun ray could be free?
With rising petrol and energy prices, are electric cars and solar cell technology the way of the future. This talk looks at this issue, while reflecting on the experiences of a Flinders student-lead project who are building a solar car with an aim of road registration.
Dr Kristy Hansen: Improving acceptance of wind farms in rural communities
There are many benefits to renewable energy, which include reduced greenhouse emissions, improved air quality and avoiding the depletion of natural resources for future generations. South Australia is the largest producer of wind energy in Australia and in 2017, South Australia had 17 operating wind farms with a total installed capacity of about 1,789 MW and more than 600 wind turbines. For the future, at least 13 wind farms are under construction, proposed or approved for construction. Despite the clear benefits of renewable energy, the rapid expansion of wind energy has resulted in widespread community complaints regarding noise emission. Therefore, the aim of my research is to determine which noise components contribute most to annoyance and sleep disturbance and to propose suitable limits that will ensure minimal disruption to people living near wind farms. This research has the potential to improve the health and quality of life for people living near wind farms and to improve public acceptance of wind farms, particularly in rural communities of South Australia.
Rahmat Khezri (PhD Candidate): Renewable Energy: Dispatchable and Optimized System by Wind Farms and Battery Energy Storages
Due to air pollution issue (carbon dioxide emission) and high cost of fossil fuels, trend for using renewable energy resources to produce electrical energy has increased rapidly. By exclusion of conventional power plants and inclusion of renewable power plants such as wind farms (WFs), the power system performance characteristics have changed in many aspects. Mitigation of uncertainty and intermittency in the availability of generation from WF is a challenging task for the WF designers and energy market operators. Battery energy storage (BES) is a promising option for mitigating the stochastic characteristics of wind generation availability and enabling the integrated WF and storage system that can be dispatched in the same manner as that of a conventional generating unit. Since BES is an expensive and energy limited resource, an intelligent utilization strategy should be devised to maximize the benefits offered by the BES.
Our task is optimizing the BES size to reach the minimum cost, and planning for most efficient dispatching to have reliable system.
The aim of this event is to foster engagement and interaction between students and staff at Flinders, no matter what College or Professional area they come from, and to make STEM accessible to both the wider student body at Flinders and the general public.
STEM at the Tav will run on the third Tuesday of every month, from 5:30 PM to 7:30 PM. The events will involve a raffle, free food and discounted drinks for presenters and attendees. Updated information can be found on the facebook event page.
If you're a researcher in the College of Science and Engineering, and interested in presenting at future STEM at the Tav events, please email Sofie Amos.
---