Seminars conferences and workshops

BRAVE lecture - I don't like Mondays, Mum - preventing bullying in schools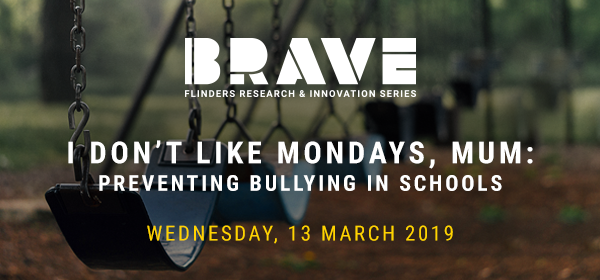 Bullying. It's physically harmful, socially isolating and psychologically damaging, affecting the mental health and wellbeing of 1 in 5 Aussie kids.
Whilst face-to-face bullying is widely recognised, cyberbullying poses broader challenges, one of which requires an integrated approach when implementing effective interventions.

Join Professor Phillip Slee at this free event, who'll discuss how a Flinders University initiative is providing new insights into the effective implementation of anti-bullying programs, supporting schools across South Australia and the globe address the issue.
The lecture "I don't like Mondays, Mum: preventing bullying in schools" will be held in Level 1, Room 1, Flinders Victoria Square on Wednesday, 13 March 2019, 5.30-7.30pm.
To register to attend, visit the Registration page.
Through its education and research programs, Flinders encourages new ways of thinking, and supports experimentation and daring, with the mission to contribute on an international scale through 'changing lives and changing the world'. So we invite you to share and collaborate with us on our BRAVE journey. We will impart our knowledge and new discoveries, elevate discussion and inspire debate; all with the view to facilitate the betterment of our society. To find out more about the BRAVE series, please visit the Flinders website.
Be BRAVE, be bold, be at Flinders.
---