Seminars Conferences and Workshops

Breathing bad - the dangers of living in a former meth house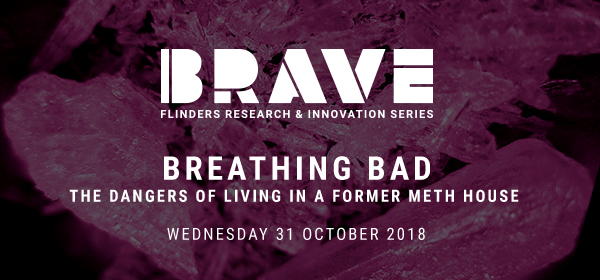 Do you own, rent or manage properties? Do you suffer from sleep problems, headaches, rashes, or sometimes find it challenging to breathe? It could well be that you are suffering from more than just allergies or asthma; you could be living in a former meth lab.
Unbeknown to many, methamphetamine residues are odourless, colourless and can be absorbed by most surfaces within one's home. It is an invisible irritant to many, where exposure can cause a wide range of health problems including, headaches, respiratory problems, behavioural changes in young children and more.
Flinders Adjunct Researcher, Dr Jackie Wright, is conducting research into characterising the health and other impacts that occur when people end up renting or purchasing a home that was previously contaminated by methamphetamine, both in the form of using and manufacturing the drug.
As part of the BRAVE Flinders Research & Innovation Series, Jackie will present a lecture "Breathing bad: the dangers of living in a former meth house" at Flinders Victoria Square on Wednesday, 31 October 2018, 5:30-7:30pm.
The BRAVE series aims to impart our knowledge and new discoveries, elevate the discussion and inspire debate; all with the view to facilitate the betterment of our society. To find out more about the BRAVE series, please visit the Flinders website.

To register to attend, visit the Registration page.
---