Seminars Conferences and Workshops

STEM at the Tav - Free food, cheap drinks, great disscussions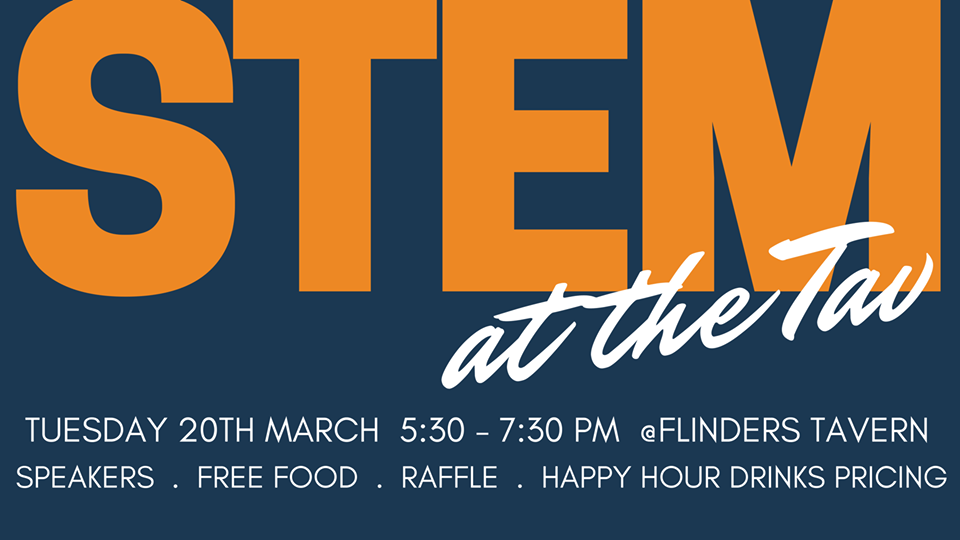 Do you want to hear 10 minute TED style talks at the Tavern with free food, raffles and discounted drinks? The College of Science and Engineering student clubs and associations, in collaboration with academic staff from the College have set up a monthly STEM at the Tav event at Flinders.

Science and Engineering Researcher will be giving talks on their topic of choice, followed by a panel discussion, in an informal and fun atmosphere. The inaugural STEM at the Tav is on Tuesday, 20 March 2018 from 5:30 PM to 7:30 PM. This month's event is loosely themed 'conservation'.
The aim of this event is to foster engagement and interaction between students and staff at Flinders, no matter what College or Professional area they come from, and to make STEM accessible to both the wider student body at Flinders and the general public.

STEM at the Tav will run on the third Tuesday of every month, from 5:30 PM to 7:30 PM. The events will involve a raffle, free food and discounted drinks for presenters and attendees. Updated information can be found on the facebook event page.
If you're a researcher in the College of Science and Engineering, and interested in presenting at future STEM at the Tav events, please email Sofie Amos.
---