Seminars Conferences and Workshops

BRAVE lecture - Liquid assets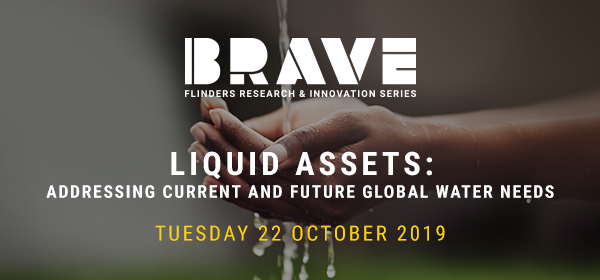 Water is our most precious resource. It plays a crucial role in the very biggest issues that we face as a global community.
Drivers for future water quality and quantity requirements on the planet include: climate change, population growth, food access, energy generation, sanitation standards, health care, and environmental preservation. Additionally, water is a key priority for the UN's Sustainable Development Goals. But what changes are needed if we are to meet the Earth's future requirements?
Are global water reserves able to sustain the world's burgeoning population? How will climate change affect our planet's water resources? Is it possible to meet our water-food-energy requirements in this changing context, whilst also protecting the environment?
Professor Craig Simmons, Director, National Centre for Groundwater Research and Training, and Matthew Flinders Distinguished Professor of Hydrogeology will present on these topics and more at this free event, Liquid assets - Addressing current and future global water needs to be held at the Victoria Square campus from 5.30 pm on Tuesday 22 October 2019.
Professor Simmons will discuss how we can address these problems and prepare for 2050, 2100 and beyond. He will demonstrate the important role groundwater and environmental research, management and policy are playing to provide solutions to current and future global water issues.
Water is everything. Without it we are nothing. Now is the time to act.
To register to attend, visit the Registration page.
Through its education and research programs, Flinders encourages new ways of thinking, and supports experimentation and daring, with the mission to contribute on an international scale through 'changing lives and changing the world'. So we invite you to share and collaborate with us on our BRAVE journey. We will impart our knowledge and new discoveries, elevate discussion and inspire debate; all with the view to facilitate the betterment of our society. To find out more about the BRAVE series, please visit the Flinders website.
Be BRAVE, be bold, be at Flinders.
---