Seminars Conferences and Workshops

Research Grants and Contracts Drop-in Sessions - May 2017
Where: Research Services Office - Room B2, Basement, Union Building
When: Tuesday 9 May 2017 and Tuesday 23 May 2017
Time: 12:00 PM – 1:00 PM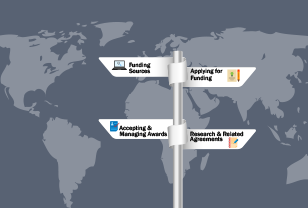 The first Research Grants and Contracts team monthly drop-in session for interested academic and professional staff will be held on Tuesday 9 May 2017.
These twice monthly sessions are designed to allow staff to receive one-on-one assistance or advice on any aspect of the services provided by the Research Grants and Contracts team, including: assistance with research grant applications, searching for funding, grant budgets, establishing collaborative contracts and other research related contracts, terms and conditions of award, confidentiality and material transfer agreements etc.
Research Grants and Contract staff will be available from 12 PM to 1 PM on Tuesday 9 May 2017 and Tuesday 23 May 2017. Participants are encouraged to register at ienrol if they are interested in attending either of the sessions and are asked to please email research.grants@flinders.edu.au to give RSO staff advance notice of the nature of the assistance they require.
---