Seminars Conferences and Workshops

2017 John Chalmers Oration - Professor Anne Kelso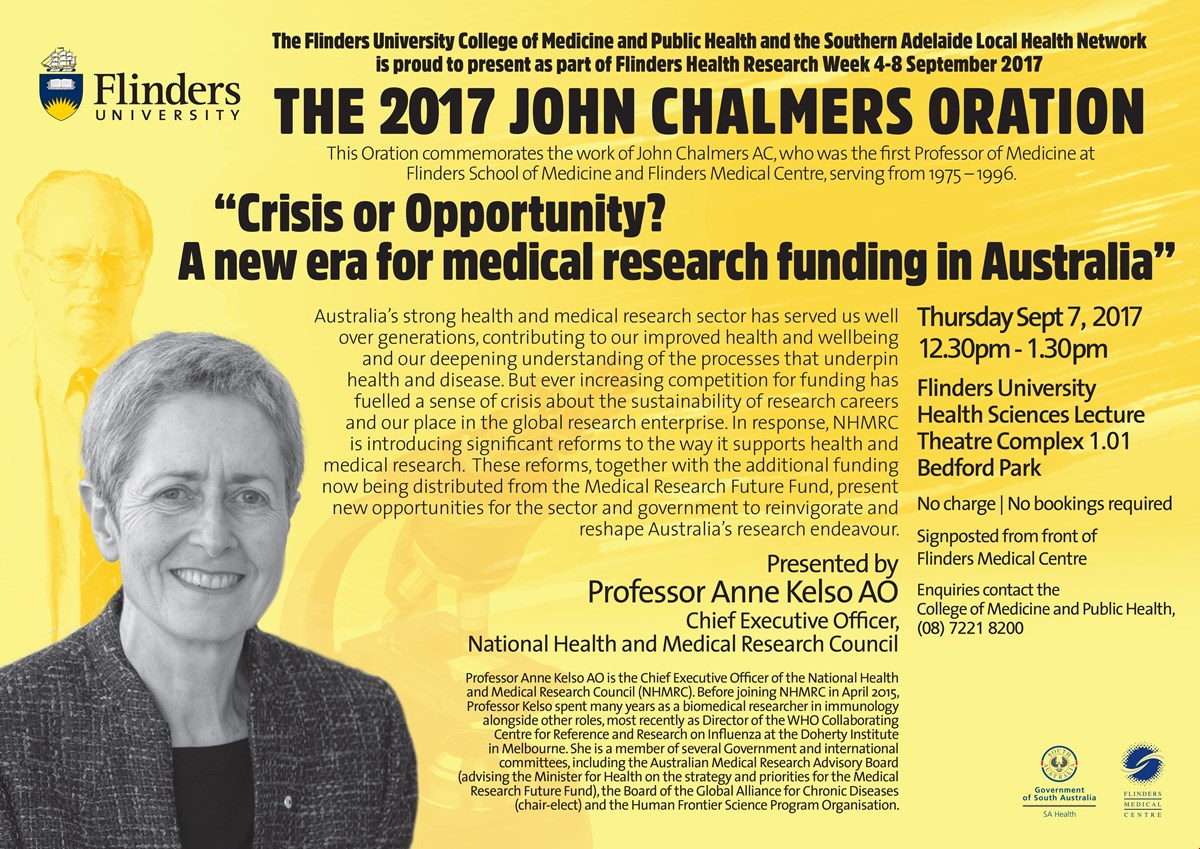 The CEO of the National Health and Medical Research Council (NHMRC), Professor Anne Kelso will present the 2017 John Chalmers Oration on Thursday, 7 September 2017 as part of the Southern Adelaide Local Health Network Flinders Health Research Week. Professor Kelso will present on 'Crisis or Opportunity? A new era for medical research funding in Australia'.
The NHMRC is implementing a restructure to improve their grant funding programs due to recent concerns about the future of medical research funding in Australia. In 2014, the Federal government established the Medical Research Future Fund (MRFF), established in order to provide the opportunity to strategically fund research and address national priorities in a cohesive and coordinated way for medical research. The MRFF was set up to complement existing medical research and innovation funding to improve health outcomes by distributing new funding in more diverse ways to support stronger partnerships between researchers, healthcare professionals, governments and the community.
The background to Professor Kelso's oration includes the upcoming changes and how they will provide new opportunities for the sector and government to reinvigorate and reshape Australia's research endeavour.
Bookings are not required for the Oration to be held from 12:30 PM to 1:30 PM in Room 1.01, Flinders University Health Sciences Lecture Theatre Complex. If you have any queries about the Oration, contact the College of Medicine and Public Health on (08) 7221 8200. After the Oration, the College of Medicine and Public Health invites attendees to the Launch of the Flinders University College of Medicine and Public Health, to be held in rooms 3.06-3.09, Health Sciences Lecture Theatre Complex from 1:30 PM.

The John Chalmers Oration commemorates the work of John Chalmers AC, who was the first Professor of Medicine at Flinders University and the Flinders Medical Centre.
The Research Services Office are in the process of updating the webpages around the NHMRC schemes. Keep an eye on the pages to see what changes are happening and how they might affect any current or future grants under the NHMRC schemes.
---