Seminars Conferences and Workshops

Why hoverflies?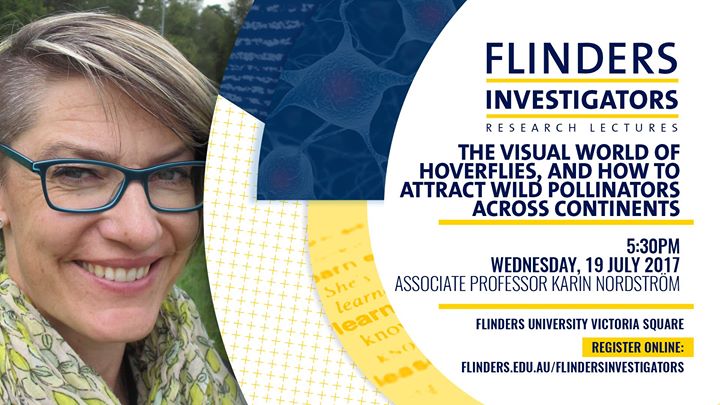 Hoverflies have a lot to tell us, especially why they could be better pollinators than bees, and Associate Professor Karin Nordström's research group at Flinders with the Motion Vision group from Uppsala University, Sweden, have started to reveal their secrets.
Karin, Senior Lecturer in Anatomy & Histology, has spent the majority of her research life looking into hoverflies and other insect's visual abilities and behaviours. One of the main projects that she and her group have focused on is what makes hoverflies visit certain flowers and not others. With the world's bee and bumblebee populations declining, this is creating an issue for crop pollination. In Europe, 80% of their crops are directly dependent on insects for pollination. In understanding how and why hoverflies are attracted to certain flowers, this could lead to new ways of pollination, and keep the supply of crops at sustainable levels in spite of the loss of bee and bumblebee populations.
Flinders Investigators lectures are free lectures bringing the University's world-leading research to the community. Register online to attend the lecture.
---