Seminars Conferences and Workshops

Call for abstracts for the 2019 Defence Human Science Symposium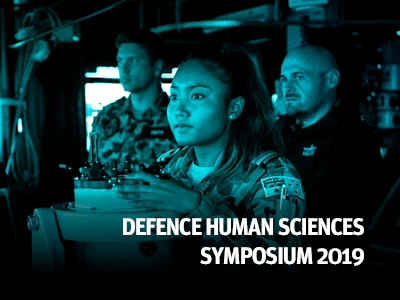 The Defence Science and Technology (DST) Group is holding a Defence Human Science Symposium in November.
Call for abstracts for the symposium are now open and will close on 2 September 2019.
The theme for this year's symposium is "Human Sciences Impact for the Warfighter". Defence is dependent on government departments like DST, private sector organisations and universities to conduct research and development activities that ultimately affect the way that that Defence fulfils its roles and missions. Having an impact in tomorrow's complex Defence environment will be a key challenge for human sciences because of the complex nature of modern operations.
The DHSS Organising Committee is aiming for a diverse program. Abstract submissions are invited for presentations in a wide range of topics including, but not limited to, the following:
Defence focused themes
Future technologies (including Biotechnology)
Health and Wellbeing
Resilience
Support to operations
Trusted Autonomous Systems
Human Performance themes
Anthropometry
Cognitive enhancement and augmentation
Cognitive performance: From Perception to Decision Making
Food and nutrition
Physical augmentation (assistive technologies)
Physiology
Human Systems Analysis themes
Ergonomics and Human Systems Engineering
Human Systems Integration
Training and Education
Human Sciences in National Security themes
Cyber security
Evaluation of software tools and techniques
Mathematical and statistical modelling of social processes
Social and cultural analysis of groups
Social media exploitation
Methodologies themes
Ethics
Measurements and Metrics
Modelling and Simulation
Multidisciplinary Research
Tools and Techniques
Organisational Effectiveness themes
Health and Safety
Organisational Culture
Personnel Selection and Retention
The above topics are indicative rather than all-inclusive. All submissions that directly relate to delivering human sciences impact for the warfighter will be considered.

Further details and lodgement details can be found at the DST Group website.
---