Seminars Conferences and Workshops

Handle with Care - November BRAVE lecture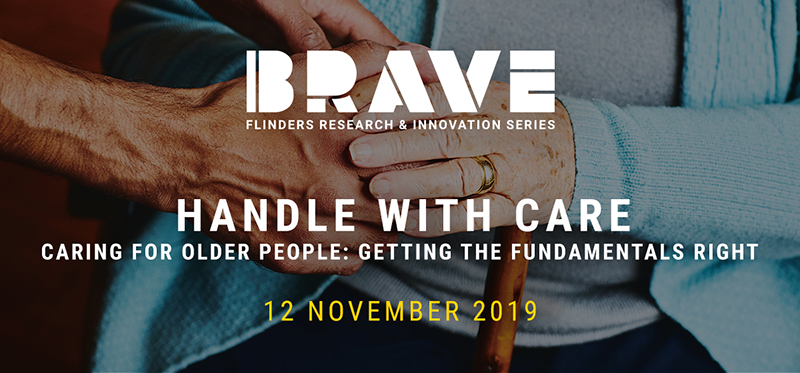 Join Professor Alison Kitson, Vice President and Executive Dean of the College of Nursing and Health Sciences and Foundational Director and Knowledge Translation Lead for the Caring Futures Institute, at the BRAVE lecture, Handle with care: caring for older people - getting the fundamentals right to be held at the Victoria Square campus from 5.30 pm on Tuesday 12 November 2019.
Alison will present on fundamentals of care and other important care-related issues.
Established in October 2018, the Royal Commission into Aged Care Quality and Safety has gained widespread public interest, generating over 4000 telephone calls to the commission information line, and receiving over 6500 public submissions.
It could be argued that this major inquiry investigating the quality of Australian residential and in-home care is long overdue with media reporting and government reviews in the last decade highlighting systematic failures and an increase in notices of non-compliance issued, and sanctions imposed on providers.
With an interim report due from the Commissioners by 31 October, and a final report now due in April 2020, Alison and her team have reviewed the transcripts from the Royal Commission in order to analyse and synthesise the evidence of the community's experiences of the fundamentals of care.

With this information, they will inform new practices, policies, and recommendations of care/care models for the aged care sector.
To register to attend, visit the Registration page.
Through its education and research programs, Flinders encourages new ways of thinking, and supports experimentation and daring, with the mission to contribute on an international scale through 'changing lives and changing the world'. So we invite you to share and collaborate with us on our BRAVE journey. We will impart our knowledge and new discoveries, elevate discussion and inspire debate; all with the view to facilitate the betterment of our society. To find out more about the BRAVE series, please visit the Flinders website.
Be BRAVE, be bold, be at Flinders.
---