Seminars Conferences and Workshops

IMPACT7 2020 - Are you working toward a better tomorrow?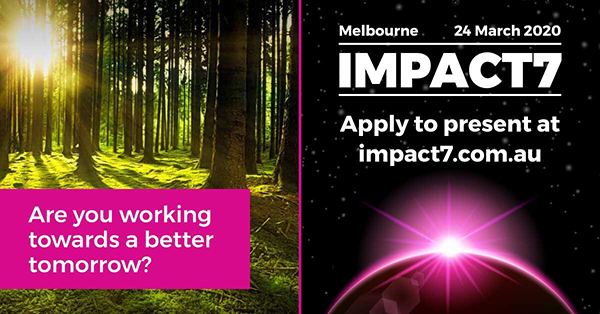 Applications to present at IMPACT7 2020 are now open.
IMPACT7 2020, Tuesday 24 March 2020, Melbourne, is a one-day showcase that brings together Australian researchers, entrepreneurs and leaders addressing the 7 major challenges facing our globe: carbon; congestion; connectedness; integrity; productivity; scarcity; vitality.
Join Impact7 2020 to discover amazing initiatives that aim to build resilient cities, find new energy sources, repair bodies, save lives, eliminate waste, preserve our environment and much more.
Applications are now open for presenters until end of January 2020.
The 7 major challenges are:
Carbon
How do we sustain life on earth and reverse the damage to our ecosystems? How can we reduce and repurpose wasted resources? What can we do to help save the planet for future generations?
Congestion
What do our future urban environments look like? What compelling ideas can we adopt to manage population growth and environmental change? How can we ensure the future resilience and liveability of our cities and boost our capacity to find solutions to such challenges as energy, housing and wayfinding?
Connectedness
Humans are hard-wired for social connection. How do we nurture meaningful relationships between each-other, our communities and our world? Challenge sponsored by Australia's Academic and Research Network.
Integrity
Income gaps are widening and the concentration of wealth is increasing. What fundamental changes in the nature of our work, economics and education will be required for us to build a safe and more equal world?
Productivity
Which new technologies can we embrace to transform industries and make us more productive? How do we meet the needs of future generations with solutions both close to home and out of this world?
Scarcity
As the global population is expected to reach 10 billion people by 2050, demand for food, and with it demand for water, is set to continue to rise. How do we transform the way we interact with our planet to produce what we need?
Vitality
What opportunities are there to prevent disease, promote human health and prolong life?
For more information, and to register to attend, visit the IMPACT7 2020 website.
---