Seminars Conferences and Workshops

In Conversation with the Women Scientists & Engineers of BHP Billiton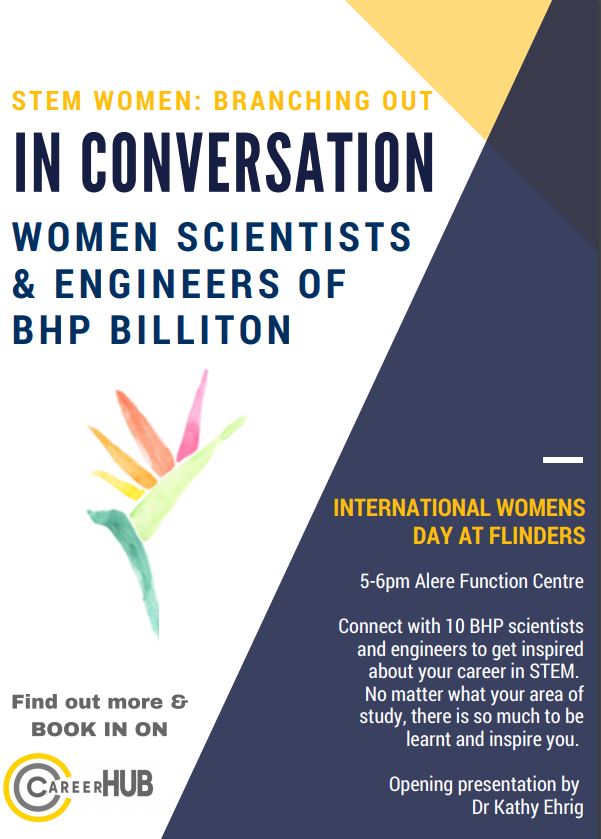 As part of International Women's Day, the STEM Women: Branching Out at Flinders are hosting the opportunity for Flinders staff and students to connect with 14 BHP scientists and engineers. Find out about their careers, hear their advice and get to know their stories of success.
No matter what your area of study or work, there is so much to be learnt that can help inspire your own career. The seminar will be held on Thursday 8 March, from 5:00 PM to 6:00 PM in the Alere Function Centre.

The opening presentation will be delivered by Dr Kathy Ehrig, Principal Geometallurgist, to be followed by a panel discussion and the ability to be involved in structure and informal networking opportunities.
The participants in the panel discussion will be:
Amanda Weir - Head of Geoscience and Resource Engineering
Karen Beck - Specialist Cost and Project Integration
Diane Djotaroeno - Principal Change Management
Michelle Smith - Senior Database Geologist
Julia Warder - Principal Metallurgist – Project Integration, Heap Leach Development
Hanieh Nolan - Engineer Planning
Karina Martin - Principal Health Analysis and Improvement
Krystelle Berry - Principal Technology Partner
Katarina Veljaca - Superintendent Operational Design
Becky Gallagher - Principal Planning
Jacqui Rose - Engineer Planning
Tara McNichol - Senior Exploration Geologist
Alice Taysom - Specialist Environment Analysis & Improvement
For more information and to book a place, visit the Flinders CareerHub page here.
STEM Career Panelists profiles
---