Seminars Conferences and Workshops

See Flinders PHD researchers condense their research in 180 seconds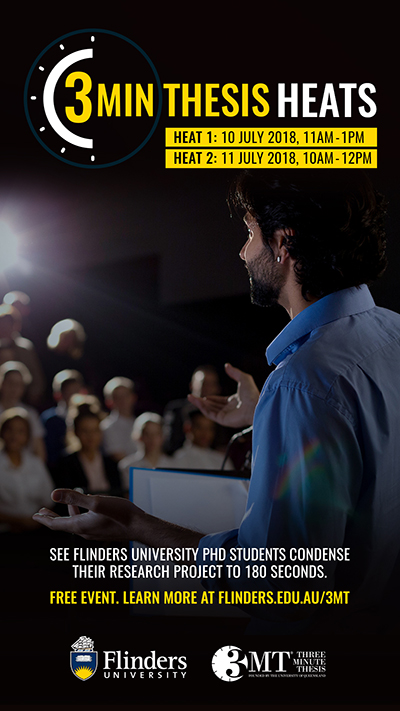 The heats of the Flinders 3 Min Thesis (3MT) will be held on 10 & 11 July. The students will have to effectively explain their research in three minutes, in a language appropriate to a non-specialist audience. The competition cultivates students' academic, presentation, and research communication skills.

Flinders University students and staff, and members of the public are encouraged to attend the competition heats and finals, and support our students and their ground-breaking research.
The 3MT was first held across Australian universities in 2009 and 2010. Competitions are now held in over 600 universities and institutions across 65 countries worldwide.
The heats will be held in the Health Science Lecture Theatre Complex, Lecture Theatre 1.01. The first heat will be held on 10 July from 11 AM to 1 PM. The second heat, on 11 July, will be held from 10 AM to 12 PM.
Participants are:
Business, Government and Law
Faisal Abdullah
Education, Psychology, and Social Work
Hannah Scott and Ella Moeck.
Humanities, Arts, and Social Sciences
Martin Samson, Elise Silson, Carolina Castro Huercano and Phillip Kananagh.
Medicine and Public Health
Vitalis Mwinyuri, Lalit Joshi, Matthew Rahimi, Marissa Holden, Heath Pillen, Saira Ali and Diana Ferreira.
Nursing and Health Sciences
Louise Heuzenroeder, Brittany Johnson and Chelsea Mauch.
Science and Engineering
Pouya Baniasadi, Rahmat Khezri, Marpaleni Marpaleni, Samantha Pandelus, Laura Gell, Antoine Champreux, Christopher Waterman, Liam Howard-Fabretto, Piyamas Kanokwongnuwut and Robert Trott.

The aim for these PhD students is to promote their research, develop their communication skills, boost their career and be in the running to win the 2018 Asia-Pacific 3MT prize of a $5,000 research travel grant.
To find out more, visit the Flinders 3MT webpage.
---