New Opportunities

Harry Frank Guggenheim Foundation research grants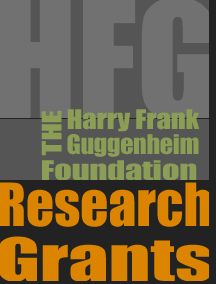 The Harry Frank Guggenheim Foundation (HGF) welcomes proposals from any of the natural and social sciences and the humanities that promise to increase understanding of the causes, manifestations, and control of violence and aggression. Highest priority is given to research that can increase understanding and amelioration of urgent problems of violence and aggression in the modern world.
Applications are to be submitted online, and close on 1 August, Midnight (EST). Guidelines and link to the online application form are available at the HFG website. For application advice and assistance, please contact Mary Lyons, Senior Research Grants Officer (IGII).

Questions that interest the foundation concern violence and aggression in relation to social change, intergroup conflict, war, terrorism, crime, and family relationships, among other subjects. Priority will also be given to areas and methodologies not receiving adequate attention and support from other funding sources.

Most awards fall within the range of $15,000 to $40,000 per year for periods of one or two years.
---