New Opportunities

2019 Peter Doherty Leading Light Award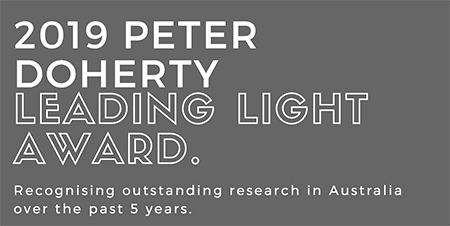 The Australian Society for Medical Researchers (ASMR) invites mid-career researcher (MCR) members to apply for the ASMR Peter Doherty Leading Light Award.
This award seeks to recognise the outstanding work of MCRs (5 – 12 year post-doctoral) in Australia.
Assessment is based on the impact of a single piece of work, including advances in knowledge, improvements in clinical practice or broader policy changes. Applications are open to researchers from all fields of health and medical research.
The award is named in recognition of Nobel Laureate Professor Peter Doherty's career achievements, scientific accomplishments, and ongoing support and mentoring of Australia's next generation of researchers. Professor Doherty was the inaugural 1998 ASMR Medallist and continues to inspire the research community through his science advocacy.
Self-nominations and institute-led nominations are welcome. MCRs need to be current ASMR Members at time of Application. Applications close Friday 27 September 2019. The Flinders internal closing date is 13 September 2019. Please contact Dr Marina Delpin, Manager: Researcher Training, Development and Communications, if you are applying.
For any further information on the award, visit the ASMR website.
---