New Opportunities

Biomedical Translation Bridge (BTB) Program Round 3 Rapid COVID-19 Response Funding Opportunity is Now Open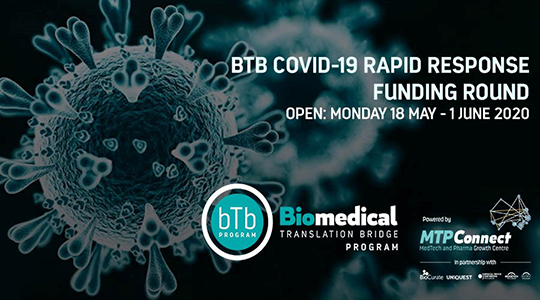 MTPConnect is set to launch a new round of its Biomedical Translation Bridge (BTB) program, specifically designed to target COVID-19 related research.
Expressions of Interest (EOIs) will be open for two weeks from Monday 18 May – Monday 1 June 2020. Funding will support Australian small and medium enterprises, medical research institutes and universities conducting COVID-19 related research projects.
In this specific COVID-19 call, the BTB Program can provide up to $1 million in matched funding to support eligible organisations develop medical devices, diagnostics, prophylactic or therapeutic approaches that will achieve an impact on the global response to the pandemic in less than 12-months. Applicants must have demonstrated capacity to match the funding (cash) requested.
If you are interested in this opportunity please contact nhmrc@flinders.edu.au to discuss your application by 25 May. Application information, guidelines and supporting documentation can be found on the BTB webpage.
(19 May 2020) Biomedical Translation Bridge (BTB) Program Round 3 Rapid COVID-19 Response Funding Opportunity is Now Open
(18 May 2020) Featured Library Database - The Royal Anthropological Institute of Great Britain and Ireland (Wiley Digital Archives)
(14 May 2020) Wildlife Recovery Fund grants now open
(08 May 2020) CDMRP opportunities now open for May 2020
(06 May 2020) ABC's TOP 5 Media Residency Program giving a voice to early-career researchers now open
(05 May 2020) CSL Florey Next Generation Award 2020
(05 May 2020) Office of Naval Research Global call for applications for Global-X - Agile Innovative Research
(01 May 2020) RACP Research Establishment Fellowships
(30 Apr 2020) Yitpi Foundation Research Awards and Grants-in-Aid 2020
(30 Apr 2020) Pfizer Haemophilia Research in Africa-Middle East, Asia Pacific, China and Latin America award
(30 Apr 2020) Road Safety Innovation Fund – Round 1
(29 Apr 2020) 2020 Georgina Sweet Awards - now open
(27 Apr 2020) Pipeline Accelerator COVID-19 Rapid Response - Facilitating access to TIA-supported facilities
(22 Apr 2020) Global Alliance for Chronic Diseases - Cancer Prevention Funding Call 2019 - extended deadline
(21 Apr 2020) Round 22 of the CRC program
(21 Apr 2020) Air Force Synthetic Biology Challenge
(20 Apr 2020) National Innovation Games comes to SA – virtually!
(17 Apr 2020) Support for NDIS Providers Program - Supporting NDIS Participants with Swallowing Difficulties
(17 Apr 2020) AINSE 2020 Residential Student Scholarships
(16 Apr 2020) RACGP COVID-19 and general practice research projects
(15 Apr 2020) 2021 HFSP Nakasone Award Call for Nominations
(08 Apr 2020) eSafety Commissioner - Online Safety Grants Program
(08 Apr 2020) Beat Cancer project - Project Grants 2020
(07 Apr 2020) National Breast Cancer Foundation - Investigator Initiated Research Scheme 2021 now open
(07 Apr 2020) Beat Cancer project - Infrastructure Grants 2020
(06 Apr 2020) Wildlife and Habitat Bushfire Recovery Program
(06 Apr 2020) 2020 Tall Poppies - nomination deadline extended
(01 Apr 2020) CDMRP opportunities now open for April 2020
(01 Apr 2020) Bill and Melinda Gates Grand Challenges - April 2020
(01 Apr 2020) 2021 Australian Academy of Science Aboriginal and Torres Strait Islander Scientist Travelling Research Award
(01 Apr 2020) 2021 Al & Val Rosenstrauss Fellowship now open
(31 Mar 2020) NHMRC Special Initiative in Mental Health now open
(27 Mar 2020) Accessing SPSS Statistics on Staff/Students Personal Devices - COVID-19 Special Arrangements
(26 Mar 2020) Australia's National Hydrogen Strategy
(24 Mar 2020) MRFF - 2020 Respiratory Medicine Clinical Trials Research on COVID-19 Grant Opportunity
(24 Mar 2020) Databases and other information on COVID-19 from the World Health Organisation and the National Institutes of Health
(23 Mar 2020) Australia-ASEAN – postponement of 2020-21 grant round
(16 Mar 2020) 2020 Ramaciotti Awards
(16 Mar 2020) Heart Foundation 2020 Postdoctoral Fellowships now open
(12 Mar 2020) NHMRC e-ASIA Joint Research Program - 9th Health Research and Environment call - extension of application period
(11 Mar 2020) NHMRC Ideas grants 2020 now open - extended timelines
(10 Mar 2020) 2020 Resilient Australia Awards
(06 Mar 2020) Nominate now for the Australian Academy of Science's 2021 awards and apply for funding opportunities - extended closing date
(06 Mar 2020) NHMRC Postgraduate Scholarship for 2021
(05 Mar 2020) Nature Foundation March 2020 grant round - Supporting science-based research for nature conservation
(02 Mar 2020) CDMRP opportunities - changes due to impacts of Covid19
(28 Feb 2020) US-Australia International Multidisciplinary University Research Initiative - Cyber Autonomy through Robust Learning and Effective Human/Bot Teaming
(27 Feb 2020) Call for submissions and Peer Reviewers for the Australian Journal of Defence and Strategic Studies
(27 Feb 2020) David and Valerie Solomon Award 2020 for early-mid career science or technology graduates
(26 Feb 2020) NHMRC Synergy Grants 2020 now open
(21 Feb 2020) Wellcome Innovation Awards now open
(20 Feb 2020) 2020 ICM Agrifood Award now open
(17 Feb 2020) Dementia Centre for Research Collaboration Conference Travel Scholarships for 2020 now open
(17 Feb 2020) NBCF International Fellowship Program ongoing for 2020
(14 Feb 2020) The Bridge Program 2020 - Transferring skills on the commercialisation of pharmaceutical research
(13 Feb 2020) CDMRP Research Funding for 2020
(13 Feb 2020) Joan Southgate Southern Africa-Australasia Travel Fund
(13 Feb 2020) Australian and the Netherlands Shared Cultural Heritage and Shared Cultural Underwater Heritage programme for 2020
(12 Feb 2020) 2020 Eureka Prizes program announced
(11 Feb 2020) Expression of Interest now open for Seaworld Research & Rescue Foundation Inc Marine Vertebrate Grants
(10 Feb 2020) Heart Foundation 2020 Australian Aboriginal and Torres Strait Islander Awards - extended deadline
(10 Feb 2020) Prime Minister's Prizes for Science - 2020
(07 Feb 2020) Call for Tender - Notice for Enhancing the Land Force Support System (sense and respond)
(05 Feb 2020) Australia-Japan Foundation 2020 grants program
(04 Feb 2020) Research Network for Undersea Decision Superiority 2020 Call for Expressions of Interest for Projects
(03 Feb 2020) Heart Foundation Health Professional Scholarships for 2020 now open - extended deadline
(29 Jan 2020) Social Sciences and Humanities Research Council Partnership Grants stage 1 2020 now open
(23 Jan 2020) Expression of Interest – MRFF Grant Assessment Committee
(23 Jan 2020) Kidney Health Australia Research Medical and Scientific 2019-2020 funding round is now open
(15 Jan 2020) 2020 Capstone Editing grants for Mid-Career Researchers
(18 Dec 2019) Australian Army History Research Grants now open
(18 Dec 2019) Fisheries Research and Development Corporation Funding - Call for Expressions of Interest
(18 Dec 2019) Australian Eggs - preliminary proposals now open
(17 Dec 2019) NHMRC Special Initiative in Mental Health
(16 Dec 2019) NHMRC Research Help Centre shutdown information
(10 Dec 2019) 2020 Clunies Ross Awards
(09 Dec 2019) Grand Challenges Africa Innovation Seed Grants - Round 8 Maternal Neonatal & Child Health
(27 Nov 2019) Pitch It Clever Competition 2020 - 2 minutes to get the world on board with your research
(26 Nov 2019) Nominations are now open for the Australian Space Awards
(25 Nov 2019) Research Integrity short survey for Australian academics
(25 Nov 2019) The Australian Academy of Science - providing opportunities for EMCRs through the Theo Murphy Initiative
(19 Nov 2019) Grant guidelines now available for Linkage Projects 2020 and Linkage Infrastructure, Equipment and Facilities 2021
(19 Nov 2019) Heart Foundation 2020 awards calendar
(19 Nov 2019) Research travel grants to access USA Purdue University Archives and Special Collections
(15 Nov 2019) Spencer Foundation Research-Practice Partnership grant program - collaborative research for educational change
(15 Nov 2019) Houghton Library Visiting Fellowships at Harvard
(14 Nov 2019) Playford Trust 2020 tertiary scholarships
(12 Nov 2019) Bupa Health Foundation 2019 Grants Program
(11 Nov 2019) Small research grants to access Lloyd's Register Foundation maritime heritage collection
(05 Nov 2019) International Space Investment Expand Capability Grants
(05 Nov 2019) Second 2019 call for Expressions of Interest in Modelling Complex Warfighting Strategic Research Initiative
(01 Nov 2019) Maddie Riewoldt's Vision Call for Grants Round 2, 2019
(29 Oct 2019) Office for Ageing Well Community Grants now open
(29 Oct 2019) Department of Health Child and Youth Health grant
(29 Oct 2019) Targeted Call for Research into Myalgic Encephalomyelitis and Chronic Fatigue Syndrome
(25 Oct 2019) What is the structure and purpose of the CRC Program?
(23 Oct 2019) NHMRC Development Grants 2020 now open
(23 Oct 2019) Access for Flinders researchers to the Raine Study
(23 Oct 2019) NHMRC Centres of Research Excellence now open
(08 Oct 2019) 2019 Mason Foundation ME/CFS research grant
(04 Oct 2019) Fostering Integration Grants - now open for applications
(01 Oct 2019) Call for expressions of interest - Australian Centre for HIV and Hepatitis Virology Research 2020
(01 Oct 2019) 2019 Conventions Adelaide Grant Awards
(30 Sep 2019) National Awards for Disability Leadership
(30 Sep 2019) Launch your space career with a HDR scholarship
(27 Sep 2019) Sustainability of Healthcare Awards and Colloquium 2019
(24 Sep 2019) New funding guidelines for the Ian Potter Foundation
(24 Sep 2019) Modelling Complex Warfighting Strategic Research Investment call for expressions of interest 2019
(17 Sep 2019) Round 2 of the Data61 postgraduate scholarships - New South Wales and South Australia now open
(17 Sep 2019) Spencer Foundation Small Research Grants in Education
(16 Sep 2019) Call for submissions on Effective approaches to prevention, diagnosis and support for Fetal Alcohol Spectrum Disorder
(16 Sep 2019) Embassy of France in Australia PHC FASIC 2020 Program
(13 Sep 2019) Call for applications for Japan Society for the Promotion of Science Postdoctoral Fellowships 2020
(11 Sep 2019) $1.8 million in funding for Dementia Centre for Research Collaboration World Class Research Projects
(10 Sep 2019) Suicide Prevention Australia Post-Doctoral Fellowship
(09 Sep 2019) Beat Cancer Project Fellowships for 2020 now open
(02 Sep 2019) Travel Grants for Early Career Researchers to attend the 70th Meeting of Nobel Laureates
(30 Aug 2019) 2019 Dementia Grants Program - round 2 now open
(23 Aug 2019) 2019/2020 JDRF Travel Grants now open
(20 Aug 2019) Early Career Research Transitional Grant 2020-2021 from the Foundation for High Blood Pressure Research
(14 Aug 2019) CRC-P grants open – a greener recycling industry
(06 Aug 2019) Request for Proposals in Alzheimer's Disease research
(06 Aug 2019) Call for members for the Global Young Academy
(05 Aug 2019) 2020 Clunies Ross Awards
(05 Aug 2019) 2019 Peter Doherty Leading Light Award
(31 Jul 2019) NHMRC Partnership Projects PRC3
(31 Jul 2019) Rebecca L Cooper 2020 Project Grants
(23 Jul 2019) Army Research Scheme now open
(19 Jul 2019) MS Research Australia Ian Ballard Travel Award
(18 Jul 2019) Mobility grants to attend Synthetic Biology Australasia 2019 conference - A Theo Murphy Initiative (Australia)
(15 Jul 2019) 2019 Myer Innovation Fellowships
(10 Jul 2019) Nominations for Fresh Science are now open
(10 Jul 2019) 2019 Metcalf Prize for Stem Cell Research
(10 Jul 2019) Applications open for visit to the National Institutes of Health in the USA by a junior scientist
(09 Jul 2019) Crohn's & Colitis Foundation IBD Ventures
(08 Jul 2019) 2019 Winnovation Awards - nominate or apply now
(08 Jul 2019) MND Research Institute of Australia 2019 grant round
(03 Jul 2019) Cancer Research Institute Clinic and Laboratory Integration Program requesting letters of intent
(01 Jul 2019) Australian Defence Industry Awards 2019
(28 Jun 2019) 2019 Augusta Zadow Awards
(28 Jun 2019) ON Prime Spring Session now open
(28 Jun 2019) Research Australia's submission for better regulation of complementary and unconventional medicine and emerging treatments
(25 Jun 2019) Tender - Audit of national care standards, clinical pathways, decision support tools for patients with malignant brain cancer
(19 Jun 2019) Round 2 of the BioMedTech Horizons Program now open
(18 Jun 2019) Applications now open for the 2019 Centenary Institute's Medical Innovation Awards for Early Career Researchers
(17 Jun 2019) National Palliative Care Projects - open call
(11 Jun 2019) Co-Create Knowledge for Pharma Innovation with Takeda Funding calls for expressions of interest
(11 Jun 2019) AustCyber projects fund call for expression of interest
(07 Jun 2019) Lung Foundation Australia travel grants and grant-in-aid
(07 Jun 2019) ANZ Community Foundation
(05 Jun 2019) Flinders University Impact Seed Funding for Early Career Researchers – applications now open
(04 Jun 2019) 2020 CSL Centenary Fellowships
(29 May 2019) Travel Grants to support attendance at the 2019 International Symposium on ALS/MND in Perth
(22 May 2019) Fulbright Scholarships for Australians - double the number of scholarships available this year
(21 May 2019) Competition - space to innovate
(20 May 2019) Expressions of Interest for 2019 International Summer School on Technology Transfer in Life Sciences
(15 May 2019) Flinders' Innovation Partnership Seed Grant now open
(15 May 2019) HCF Research Foundation Expressions of Interest now open
(14 May 2019) Genomics Health Futures Mission - Pathogen Genomics
(10 May 2019) Yitpi Foundation Research Awards and Grants-in-Aid
(07 May 2019) Global Connections Fund - 2019 Bridging Grants
(06 May 2019) AINSE Early Career Researcher Grant 2019
(03 May 2019) Tender call - City of Marion Community Needs Analysis
(01 May 2019) Nominations now open for the 2019 CSL Florey Medal
(01 May 2019) Georgina Sweet Awards
(30 Apr 2019) Medical Device Partnering Program
(30 Apr 2019) Wine Australia travel and visiting scholar bursaries
(29 Apr 2019) Endeavour Foundation Disability Research Fund
(29 Apr 2019) Defence and Security Accelerator - Developing the Royal Navy's autonomous underwater capability
(29 Apr 2019) AMP Tomorrow Fund
(29 Apr 2019) National Foundation for Medical Research and Innovation Alzheimer's Disease Grant Round
(18 Apr 2019) 2019 Sidney Myer Creative Fellowships
(09 Apr 2019) Round 4 of the DMTC Medical Countermeasures Program
(09 Apr 2019) Collaboration opportunity with the CSIRO for their Space Technology Future Science Platform
(08 Apr 2019) Innovation and Commercialisation projects from the Australasian Pork Research Institute
(08 Apr 2019) 2019 Field Research Grant Open
(05 Apr 2019) Australia–China Agricultural Cooperation Agreement 2019
(04 Apr 2019) Worldwide Cancer Foundation 2019 grant round
(02 Apr 2019) Genomics Health Futures Mission - Projects Grant
(01 Apr 2019) Defence Health Foundation expressions of interest
(29 Mar 2019) 2019 Eureka Prizes
(29 Mar 2019) Rebecca L Cooper Medical Research Foundation
(27 Mar 2019) 2020 Diabetes Australia Research Program Grant round
(22 Mar 2019) Research Australia Health and Medical Research Awards
(20 Mar 2019) Fulbright Scholarships for Australians - double the number of scholarships available in 2019
(20 Mar 2019) Native Title Anthropologist Grant Program
(19 Mar 2019) 2019 Heart Foundation awards closing soon.
(18 Mar 2019) Australian Research Council's Special Research Initiative in Excellence in Antarctic Science 2020
(18 Mar 2019) Tender - New knowledge and practices to address topsoil and subsurface acidity under minimum tillage cropping systems of South Australia
(13 Mar 2019) Aus4Innovation Innovation Partnership Grants
(13 Mar 2019) Tender - Request for Quote to develop and disseminate communication materials, best practice advice and training
(12 Mar 2019) 2020 Australian Academy of Science Awards now open
(06 Mar 2019) Nominate now for the 2019 SA Science Excellence Awards
(06 Mar 2019) 2019 SA Tall Poppy Awards
(05 Mar 2019) 2019/2020 Equity Fellows Program
(05 Mar 2019) Tender - Approach to Market to develop and deliver training and assistance for the transition to the new Aged Care Quality Standards
(05 Mar 2019) US Department of Defense upcoming grant opportunities
(04 Mar 2019) National Dementia Support Program
(04 Mar 2019) IMCRC Industry 4.0 R&D Funding
(04 Mar 2019) South Australian Space Industry Scholarship Program 2019
(04 Mar 2019) Army History Research Grants
(01 Mar 2019) Australian Academy of the Humanities
(01 Mar 2019) AINSE Postgraduate Research Awards 2019
(28 Feb 2019) Medical Research Future Fund Targeted Health System & Community Organisation Research—grant opportunity (round 2) opening soon
(26 Feb 2019) Gates Foundation Grand Challenges 2019
(26 Feb 2019) ICM Agrifood Award – for excellence in Agrifood
(11 Feb 2019) 2019 Ramaciotti awards
(08 Feb 2019) Sylvia and Charles Viertel Charitable Foundation awards
(06 Feb 2019) Prime Minister's Prizes for Science
(05 Feb 2019) 2019 Australia-India Council grants program
(04 Feb 2019) 2019 Australia-Korea Foundation grants program
(01 Feb 2019) 2019 Australia-Japan Foundation grants program
(01 Feb 2019) Churchill Fellowship 2019
(31 Jan 2019) 2019 Nature Research Awards
(31 Jan 2019) Australia & Pacific Science Foundation
(29 Jan 2019) Hermon Slade Foundation research grants
(29 Jan 2019) L'Oréal-UNESCO For Women in Science Fellowships
(24 Jan 2019) JDRF Project Concepts letter of intent
(24 Jan 2019) IASP Early Career Research grants
(24 Jan 2019) The opportunity to include a question on social inequality in the 2019 Australian Survey of Social Attitudes
(23 Jan 2019) Department of Education and Training seeking EOI for Investigating the effects of cumulative factors of disadvantage
(23 Jan 2019) NHMRC e-ASIA Joint Research Program Grants 2019
(23 Jan 2019) LIEF now open for applications
(21 Jan 2019) AFUW scholarships for women undertaking tertiary studies
(17 Jan 2019) Joint transnational call for multinational research projects on personalised medicine for neurodegenerative diseases
(17 Jan 2019) Apply now - EOI open for BridgeTech Program 2019
(16 Jan 2019) PhD Scholarship top-up grant from MNDRIA
(15 Jan 2019) Advanced Acoustic Materials Research Proposal
(17 Dec 2018) Heart Foundation 2019 portfolio release and changes
(12 Dec 2018) ON Prime-Defence in 2019
(12 Dec 2018) Myer Innovation Fellowships
(11 Dec 2018) Mawson Lakes Fellowship & Research Grants Program
(10 Dec 2018) Leakey Foundation Research Grants
(07 Dec 2018) ANZAHPE Research Grants
(07 Dec 2018) Mito Foundation Booster Grants
(27 Nov 2018) Allan Martin Award for early-career historians
(21 Nov 2018) AINSE ANSTO French Embassy (SAAFE) Program
(19 Nov 2018) National Landcare Program - Smart Farms Small Grants
(08 Nov 2018) Capstone Editing Grant for Mid-Career Researchers
(08 Nov 2018) IUHPST Essay Prize in History and Philosophy of Science
(07 Nov 2018) Australian National Commission for UNESCO Grant Program
(06 Nov 2018) Japan Society for the Promotion of Science fellowships
(02 Nov 2018) Avalon 2019 Innovation Awards
(30 Oct 2018) Theo Murphy Initiative (Australia) now open
(29 Oct 2018) Call for Expressions of Interest - Australian Centre for HIV and Hepatitis Virology Research
(29 Oct 2018) Notice of Grant application to Million Minds Mental Health Research Mission through NHMRC
(25 Oct 2018) Creative France Australia short program (summer school)
(24 Oct 2018) Nicolas Baudin Program - Internship in France initiative
(23 Oct 2018) Impact Philanthropy Application Program
(19 Oct 2018) Grants for National Science Week 2019
(16 Oct 2018) Open ARC grant opportunities
(16 Oct 2018) Public Health Association Scholarship/Award Applications
(15 Oct 2018) Round Two PFAS Remediation Research Program 2018
(12 Oct 2018) Stroke Foundation clinical research grants
(09 Oct 2018) NBCF International Fellowship program in Breast Oncology
(02 Oct 2018) Australian Laureate Fellowships now open
(01 Oct 2018) Endeavour Leadership Program
(28 Sep 2018) Global Innovation Linkages Program
(25 Sep 2018) November round for the Grand Challenges
(24 Sep 2018) Asthma and Airways Career Development Fellowship
(21 Sep 2018) Microba Research grants
(18 Sep 2018) Hospital Research Foundation PhD Scholarships
(18 Sep 2018) Two new research awards for cutting edge projects
(17 Sep 2018) ASMR Research Awards
(12 Sep 2018) Get involved in the Women in STEM Decadal Plan
(11 Sep 2018) STEM Professional and Champion Awards
(10 Sep 2018) Special Issue call for papers - The efficacy of policies, theories and actions to support the inclusion of refugees
(07 Sep 2018) ASSA-CASS Joint Action Program
(05 Sep 2018) Financial Markets Foundation for Children
(03 Sep 2018) Wine Australia Travel and Visiting Scholar Bursaries
(31 Aug 2018) Fulbright Specialist Program
(30 Aug 2018) CRI Clinic and Laboratory Integration Program
(24 Aug 2018) Australian Antarctic Science Program
(17 Aug 2018) 2019 Clunies Ross Awards
(16 Aug 2018) Mason Foundation
(16 Aug 2018) Australian Rotary Health - Postdoctoral Fellowship Scholarship in the Prevention of Mental Health
(14 Aug 2018) Policy internship opportunity—Spring/Summer 2018 with the Australian Academy of Science
(14 Aug 2018) NHMRC Targeted Call for Research – Re-Opened
(13 Aug 2018) Cancer Research Institute Technology Impact Award
(07 Aug 2018) Summer Foundation Research Grants
(06 Aug 2018) Peter Nelson Leukaemia Research Fellowship
(06 Aug 2018) MRIWA Research Grants
(03 Aug 2018) Wellcome Innovator Awards
(01 Aug 2018) Australia–India Strategic Research Fund Early- and Mid-Career Researcher Fellowships 2019
(25 Jul 2018) Cyber Technology Research Opportunities
(24 Jul 2018) Publishing opportunity for researchers and post grads
(24 Jul 2018) Fonds Pacifique call for projects now open
(20 Jul 2018) CSL Florey Next Generation Award
(19 Jul 2018) Westpac Social Change Fellowship
(18 Jul 2018) Strategic Policy Grants Program
(17 Jul 2018) CPA Australia Global Research Perspectives Program
(16 Jul 2018) AINSE Residential Postgraduate Scholarships
(13 Jul 2018) Susan G. Koman Career Catalyst Research (CCR) Grants
(11 Jul 2018) Call for proposals with the French National Institute for Research in Computer Science and Control
(10 Jul 2018) MND Research Institute of Australia 2018 grant round
(09 Jul 2018) One off Grants and Challenge Prizes from Merck Group
(09 Jul 2018) 2018 Dementia Grants Program Round 2 - Applications OPEN
(06 Jul 2018) Harry Frank Guggenheim Foundation research grants
(05 Jul 2018) Metcalf Prizes for Stem Cell Research
(04 Jul 2018) Interstitial Lung Disease Grant-in-Aid and Travel Grants
(29 Jun 2018) Australia-Harvard Fellowships
(22 Jun 2018) Cancer Council SA's Beat Cancer Project Funding Program
(15 Jun 2018) Flinders internal opportunity - Bretagne Scholarships
(15 Jun 2018) 3 Minute Thesis - Do you have the time?
(15 Jun 2018) Twenty mentorships available for Flinders PhDs
(14 Jun 2018) International Summer School opportunities now open
(01 Jun 2018) Grants for Gambling Research Program - ECR grants
(31 May 2018) NHMRC Targeted Call for Research – Now Open
(30 May 2018) Nominations open for $30,000 Defence Innovation Awards
(25 May 2018) Global Connections Fund - Bridging grants
(24 May 2018) Emerging Researchers Mobility Grants to attend International Conference for Young Researchers on Advanced Materials in Adelaide
(14 May 2018) National Housing Research Program Funding Round
(08 May 2018) Flinders Foundation Health Seed Grant Round 2018/19
(30 Apr 2018) The Road Home 2018 grant round now open
(27 Apr 2018) Georgina Sweet Awards – Applications open 1 May
(19 Apr 2018) Dementia Australia - round 1 open
(18 Apr 2018) Brain Foundation - 2018 Elizabeth Penfold Simpson Prize
(13 Apr 2018) Grand Challenges - new opportunities available
(12 Apr 2018) Augusta Zadow Awards
(11 Apr 2018) The challenge to reduce workplace injuries
(06 Apr 2018) Now open - competitive grants on Shark Management
(04 Apr 2018) TRIP Fellowships now open
(03 Apr 2018) Are you the next Fresh Scientist?
(03 Apr 2018) Fellowships open now for Future Medical Stars
(29 Mar 2018) 2018 Ramaciotti Awards now open in Biomedical Medicine
(23 Mar 2018) CHASS Australia Future Leader Prize and Student Prize
(20 Mar 2018) BHERT Awards now open
(16 Mar 2018) Call for nominations for APEC Science Prize for Innovation, Research and Education (ASPIRE) 2018 – OPEN
(14 Mar 2018) Support now available for Summer/Winter Schools between Australian and French institutions
(12 Mar 2018) Now Open Endeavour Foundation Endowment Challenge Fund
(06 Mar 2018) AINSE Postgraduate Research Awards
(05 Mar 2018) National Breast Cancer Foundation Grants Scheme now open
(27 Feb 2018) Heart Foundation Fellowships now open
(20 Feb 2018) National Foundation for Medical Research and Innovation - open and upcoming grant rounds
(20 Feb 2018) 2019 Australian Academy of Science Awards are now open
(16 Feb 2018) 2018 Space Scholarship Program - NOW OPEN
(15 Feb 2018) PhD student internship in France
(13 Feb 2018) Time to Nominate!
(09 Feb 2018) L'Oréal-UNESCO For Women in Science Fellowships
(08 Feb 2018) CRC Project grants now open
(08 Feb 2018) iAwards nomination period closing soon
(07 Feb 2018) Applied Forest Conservation Science Scholarship
(06 Feb 2018) Global Connections Fund - Priming Grants now open
(06 Feb 2018) CSIRO Synthetic Biology Future Science Fellowships
(05 Feb 2018) PhD Top-Up Scholarships & Travel Grants
(02 Feb 2018) Perform Your Science
(30 Jan 2018) Senior Medical Research Fellowship, the Bellberry-Viertel Fellowship and Viertel Clinical Investigator awards
(23 Jan 2018) Internationalisation of Brazillian Higher Education Institutions - Australia as a priority
(22 Jan 2018) Call for Expressions of Interests - Farming Together
(19 Jan 2018) British Academy Visiting Fellowships
(16 Jan 2018) Try, Test and Learn Fund
(11 Jan 2018) Quantum Technologies Research Network
(09 Jan 2018) AINSE 2018 Specialist Committees
(03 Jan 2018) Early Career Scholars Exchange
(18 Dec 2017) Pitch it Clever
(13 Dec 2017) Accelerate your research with ON, powered by CSIRO
(06 Dec 2017) Call for Peer Reviewers in Cancer Research
(29 Nov 2017) BioMedTech Horizons Program - MTP Connect Program
(21 Nov 2017) Funding for Inflammatory Bowel Disease products
(14 Nov 2017) First round of funding from Diabetes SA
(01 Nov 2017) The opportunity to include a question on religion in the 2018 Australian Survey of Social Attitudes
(23 Oct 2017) Space Innovation Fund request for proposals
(18 Oct 2017) Call for research - Stronger Systems for Health Security
(17 Oct 2017) Singapore Fellowships in oceans and sustainable cities
(16 Oct 2017) Call for Ideas & Innovation Australia
(13 Oct 2017) Clunies Ross Awards now open
(09 Oct 2017) ARENA - request for information
(04 Oct 2017) Seeking input from US Research Team members
(03 Oct 2017) Postdoctoral Fellowship visits to Japan
(27 Sep 2017) Self-nominations for 2018 peer review (NHMRC)
(21 Sep 2017) NLA Summer Scholarships closing soon
(19 Sep 2017) Research Consortia Program
(14 Sep 2017) Scopus - Researcher Awards 2017
(13 Sep 2017) Grand Challenges Explorations
(12 Sep 2017) EOIs and Upcoming dates for ARC and NHMRC funding rounds
(06 Sep 2017) MRFF Competitive Grant Opportunities
(23 Aug 2017) New travel grants for Women in STEM
(23 Aug 2017) Propose a course for ACSPRI
(22 Aug 2017) Fulbright Specialist Program
(09 Aug 2017) Fresh Science - do you have a story to tell?
(07 Aug 2017) ICM Agrifood Award - for excellence in Agrifood
(03 Aug 2017) Human Research Ethics Committee Expressions of Interest
(02 Aug 2017) Vice Chancellor's Awards for Early Career Researchers
(02 Aug 2017) Evidence based advocacy for children and youth
(28 Jul 2017) New Funding and Awards from Thinkable
(26 Jul 2017) Conventions Adelaide Grant Awards Program
(11 Jul 2017) MTP Connect
(11 Jul 2017) SALHN Excellence Awards
(10 Jul 2017) ON Australia's Security and Defence
(07 Jul 2017) National Science Week 2017 - Are you in?
(06 Jul 2017) STEM Innovation in SA
(29 Jun 2017) AusBiotech 2017 registrations now open
(29 Jun 2017) Call for Research Fellowships and Conference Sponsorship
(16 Jun 2017) Have you dug into Australia's treasure Trove?
(15 Jun 2017) Need help getting products to clinical trial?
(06 Jun 2017) Call for Papers-ECR Polar Oceania Symposium
(01 Jun 2017) Applications for Impact 2017 are open!
(30 May 2017) Flinders access now granted for European datasets
(30 May 2017) AMSI Scientific Workshop Funding Round
(15 May 2017) GSK Award for Research Excellence
(04 May 2017) Research Week call for abstracts
(06 Apr 2017) Falling Walls Lab 2017
(30 Mar 2017) Savings for Flinders Researchers
(28 Mar 2017) Monash Engineering Women's Leadership Award
(15 Mar 2017) Grants4app Singapore
(14 Mar 2017) Eureka Prizes now open
(08 Mar 2017) Grand Challenges
(06 Mar 2017) Call for Papers-Creating engaging discussion
(06 Mar 2017) Australia-Vietnam Researcher Exchange Program
(02 Mar 2017) Call for Papers-Flinders WHIP Conference
(23 Dec 2016) Call for Papers-Ageing in a Foreign Land
(23 Dec 2016) Call for Papers-Greek Research
---