New Opportunities

Grants for Gambling Research Program - ECR grants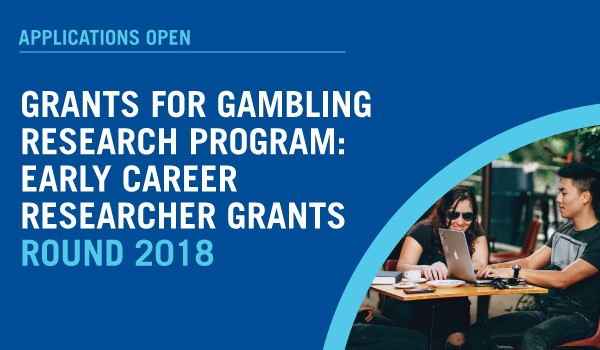 Applications are now open for up to six individual gambling harm-related early career researcher projects, with a total funding pool of $300,000 GST excl. from the Victorian Responsible Gambling Foundation.
The funding will be awarded under the Victorian Responsible Gambling Foundation's Grants for Gambling Research Program, which supports projects that aim to broaden and deepen our understanding of how the Victorian community is affected by gambling.
Up to six $50,000 (excl. GST) grants for projects conducted over an 18-month period will be awarded to early career researchers to explore issues that relate to the following research priorities:
Lived experience
Gambling harm and lesbian, gay, bisexual, transgender, intersex and queer (LGBTIQ) communities
Gambling in regional Victoria
eSports
Fantasy sports and daily fantasy sports.
All applications will be judged on merit. Where applications are of comparable quality, preference will be given to applicants from Victorian institutions to support the Foundation's aim of building research capacity in Victoria.
The external application closing date is 2:00 PM AEST on Monday, 16 July 2018. The Flinders internal closing date is 2 July 2018. For advice and information, please contact Mary Lyons, Senior Research Grants Officer (IGII).

For more information visit: Early Career Researcher Grants Round 2018.
---