New Opportunities

BHERT Awards now open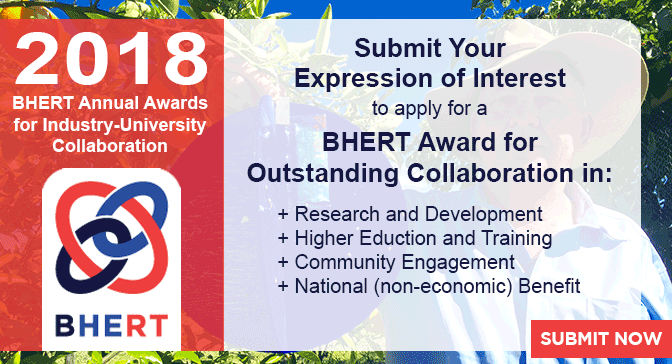 The Business Higher Education Round Table (BHERT) is currently accepting Expressions of Interest for their 2018 Awards, closing on Thursday 24 May 2018. The Flinders internal closing date is 10 working days prior, 10 May 2018, and for assistance in preparing the nominations/applications, please contact Dr Marina Delpin.
The Awards recognise collaboration achievement between business/industry and universities in four areas: Research and Development, Higher Education and Training, Community Engagement and National (non-economic) benefit.
Outstanding Collaboration in Research and Development
This award recognises excellence in basic and applied research activity undertaken jointly by researchers in tertiary education institutes and partners in business and industry. This award focuses on fundamental research (sometimes called discovery, basic or sky-blue research) that will result in the development of new ideas, the creation of jobs and an enhanced quality of life in Australia.
Outstanding Collaboration in Higher Education and Training
This award recognises outstanding contributions to enhancing the quality of learning and teaching in higher education by members of tertiary education institutions and industry partners. For the purposes of this awards program, industry is broadly defined as publicly and privately-owned companies, federal, state and government departments, statutory authorities, industry associations, unions, not-for-profits and recognised community organisations.
Outstanding Collaboration in Community Engagement
This award recognises outstanding initiatives conducted by higher education and industry designed to promote economic, social, environmental or cultural development of rural and regional communities. This award focuses on close engagement with a broad community.
Outstanding Collaboration for National (non-economic) Benefit
This award recognises outstanding collaborative efforts for the benefit of the nation. Benefits should include social, environmental and cultural outcomes. The primary purpose of the project is not to generate economic wealth for a company, university or other group.
Award Applications are assessed by a panel of independent judges against a number of criteria. The submissions must be highly innovative and reflect a strong relationship between partners. The winning Projects are also those deemed to have measurable outcomes, and high impact for Australia.
After discussion with a number of participants, and analysis of similar awards processes, BHERT have modified the application process for the 2018 BHERT Awards. The improvements respond to the high demand for these Awards, the importance to participating companies and universities, and the significant work required on an Application. Further details on the new two-stage application process is available at the BHERT website.
BHERT will then select the top applicants in each Award category, who will be invited to complete a full Application through our Online Portal from Friday 1 June to Friday 31 August. These full applications will be judged by an expert panel, and winners will be announced at the BHERT Awards Dinner on Tuesday 20 November.

---