New Opportunities

One off Grants and Challenge Prizes from Merck Group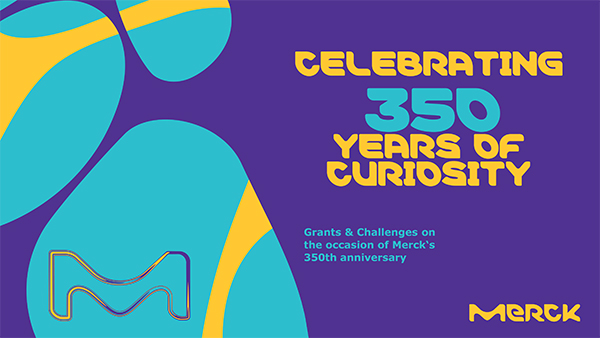 Merck Group (Merck KGaA) are celebrating their 350th anniversary by offering multiple one-off research grants and monetary prizes for challenges. Merck are very keen that as many Australian and New Zealand researchers as possible have the opportunity to apply for these grants and prizes.
Up to €350,000 is available for research grants, and up to €30,000 is available for challenges.

Applications for both the research grants and the challenges close on 15 August, 2018. For application advice and information, please contact Sinead O'Connell, Senior Commercial Manager, Research Development and Support.
The research grants are being offered in four areas - Healthy Lives/Drug Discovery, Materials & Solutions, Life Reimagined/Synthetic Biology and Digitalisation/Computing. The grants range up to €350,000 per year for 3 years - with the possibility of extension or expansion.
Top submitters will be invited to a Deep Dive workshop to further advance the proposals together with Merck scientists. The deep dive workshop will include decision on grant recipients. Merck will cover all travel and accommodation costs. Furthermore, grant winners may gain access to meaningful collaborations within Merck and all the resources and connections that this allows. For more information on the research grants, visit the Merck Group website.
Merck is initiating five research challenges in the areas of compound synthesis, protein production, innovative analytics, diabetes prevention and next game-changing technologies. The prizes for the challenges range from €3,000 to €30,000.
These challenges are open to individuals and teams. For more detailed information on each challenge, visit the Merck Group website, or contact Sinead O'Connell, Senior Commercial Manager.

---