New Opportunities

Flinders University Impact Seed Funding for Early Career Researchers – applications now open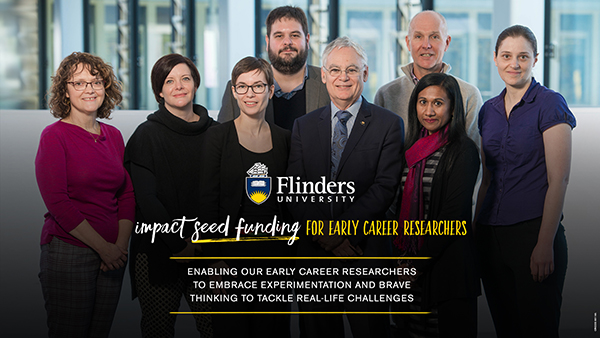 Flinders University Impact Seed Funding for Early Career Researchers (ECRs) enables emerging researchers to develop their careers by undertaking key research projects or promotion of research outcomes.
Applications for the 2019 round are now open, closing 29 July 2019. Funding of up to $10,000 will be awarded to each successful applicant.
This initiative is powered by Flinders partnering with our community of donors to provide ECRs (0-8 years post-PhD conferral) with the financial support to grow and fortify their skills. Our supporters want to make a difference by building our researchers' capacity and capabilities to make a positive impact.
This investment may represent your first independent research funding, enhancing your research track record and providing a springboard to larger projects and grant opportunities. Or it may provide the funds to showcase your research on the international stage or to form collaborative partnerships with industry and government stakeholders. It represents an opportunity for you to secure funding, manage your projects, and gain new experiences. Having access to funds at this early stage of your career will help to carve your own research pathway.
Project funds may be used for activities including:
achieving a key result or pilot study to underpin future funding applications;
developing collaborations with industry or other partners;
travel support to present current research findings at an international conference in your research field;
accelerating progress in your existing research program(s) by facilitating additional resources (eg. short term research support staff or consumables).
Applicants are encouraged to formulate their own grant submission, outlining how the addition of Impact Seed Funding will leverage and stimulate their research activities, before consultation with their College Dean of Research.
The selection panel will consider the intrinsic research merits of, and potential for impact from, the project. In addition, the panel will be looking to understand how the applicant will use this opportunity to develop their capacity to be an independent, competitive researcher and how this investment will support their career pathway.
The application form and guidelines are available on the Flinders' Internal Schemes webpage.
All queries and applications can be directed to Rupali Saikia, Research Grants Officer (Industry, Government, International and Internal), RDS.
Applications must be lodged by 5 pm, Monday 29 July 2019.
Flinders University Impact Seed Funding for Early Career Researchers (ECRs) was established in 2018, and you can read more about the inaugural recipients on the Flinders News Blog.
---