New Opportunities

Wildlife Recovery Fund grants now open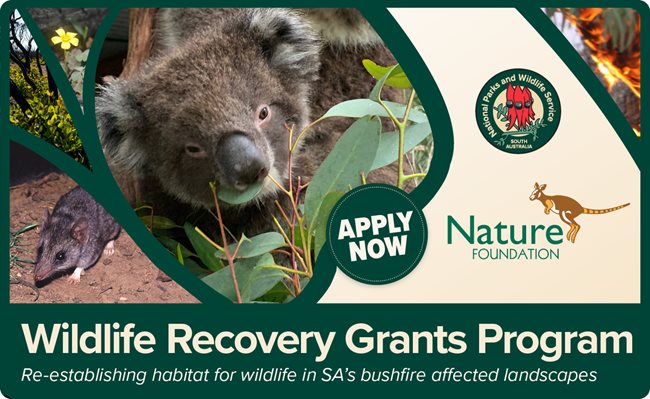 Landholders, community groups and researchers can now apply for bushfire recovery grants of up to $50,000 to help re-establish native habitat and support threatened and vulnerable native animals in South Australia.
The first round of the $400,000 Wildlife Recovery Fund is open for applicants to support the recovery of South Australia's bushfire-affected plants and animals.
Minister for Environment and Water David Speirs said that nearly 300,000 hectares of land in South Australia burnt this past summer, including around 90,000 hectares of national park land. "These grants are for landholders, community groups, and other organisations to deliver bushfire recovery projects such as native plant regeneration, feral animal and weed control, as well as projects to support species recovery like monitoring projects," said Minister Speirs.
"Projects that improve scientific knowledge of habitat and native plant and animal bushfire resilience and recovery are also encouraged. The State Government will work with Nature Foundation and the Wildlife and Habitat Recovery Taskforce to ensure sound planning, good science and local advice is used to allocate funds wisely, for the greatest benefits."
Nature Foundation Chair Jan Ferguson OAM said the supportive community response to the Wildlife Recovery Fund following the South Australian bushfires has been incredible. "The Fund has attracted wonderfully generous donations from across Australia and overseas with 100 per cent of donations going towards wildlife and habitat recovery work," said Ms Ferguson. "Applicants can apply for funds up to $50,000 for activities to support the recovery of plants and animals."
For more information and to apply for a grant visit the Nature Foundation website.
Applications close at 5 pm on 12 June 2020. Successful applicants will be announced in July 2020. The Flinders internal closing date for a completed final draft application is 29 May 2020. For application advice and assistance, contact Mary Lyons, Senior Research Grants Officer (IGII).
The Wildlife Recovery Fund has raised more than $400,000 so far, and it continues to accept donations. You can donate by visiting the Nature Foundation website.
---