New Opportunities

Office of Naval Research Global call for applications for Global-X - Agile Innovative Research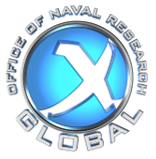 Global-X is a nine-month international science challenge worth up to US$750K that seeks revolutionary research through active worldwide cooperation. Three challenges are available to apply for: Tailored Material and Manufacturing; Multifunctional Maritime Films for Persistent and Survivable Platforms; and Warfighters and Object Detection and Identification in any Medium (Air, Water, Sand/Earth).
The mission of the Office of Naval Research Global (ONR Global) is to serve as the enduring Navy and Marine Corps global presence in technical and operational communities, investing in trusted partnerships to discover and connect science and technology leaders for sustained maritime security. ONR Global recognises international scientists and engineers conduct excellent research that is creative and novel. This Global-X Challenge provides an opportunity for these international researchers to collaborate, generate revolutionary ideas, and demonstrate these ideas will succeed.
ONR Global invites outstanding international researchers to form multi-national, multidisciplinary teams to address one or more of the capability challenges. ONR Global will competitively select and fund promising revolutionary international research projects with both military and commercial value. Global-X Challenge therefore will stimulate new, promising, high-risk research concepts whose technology maturity may be accelerated under separate agile follow-on technology development efforts to meet present and future U.S. Navy and Marine Corps capability needs.
White Paper submission is due on 25 May 2020 with full proposal submission due on 13 July 2020. The Flinders internal closing date for a completed final draft White Paper application is 18 May 2020. For application advice, contact Tony Kyriacou, Defence Partnerships Director. For application assistance, contact Mary Lyons, Senior Research Grants Officer (IGII).
ONR held a Global-X Kick-Off Webinar, which can be viewed on the Global-X website. Also available at the website are the guidelines, FAQ and Challenge Form.
---