New Opportunities

Are you the next Fresh Scientist?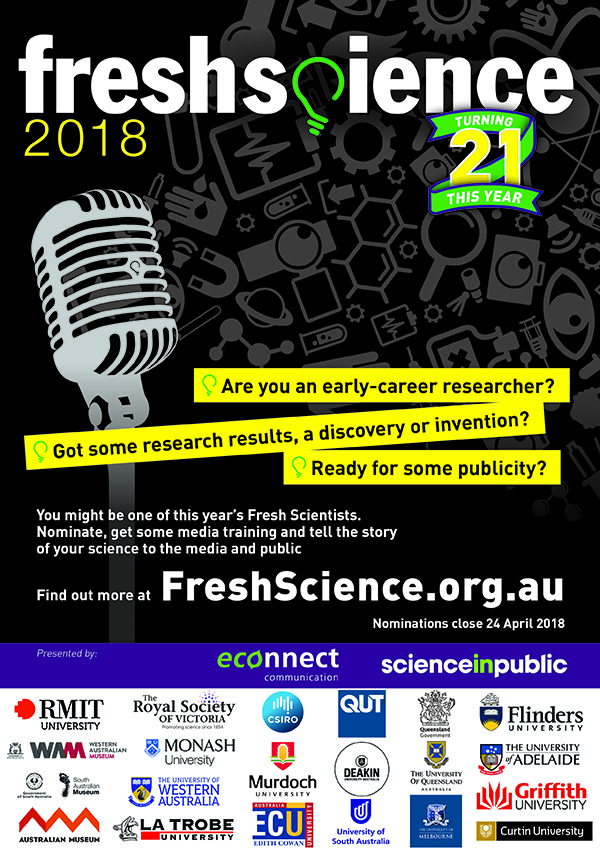 Do you know any early-career researchers who have peer-reviewed results, a discovery, or an invention that has received little or no media attention?
Please nominate them for Fresh Science, the national competition that helps early-career researchers find, and then share, their stories of discovery. Scientists get a day of media training and the chance to share their work with the media, general public and school students.
Fresh Science is looking for: early-career researchers (from honours students to no more than five years post-PhD), a peer-reviewed discovery that has had little or no media coverage, and some ability to present ideas in everyday English. For advice and support, contact Dr Marina Delpin, Research Development and Support.
Past Flinders scientists who have been selected include Laura Gell and Katherine Morrell in 2017, Dr Mona Awadalla and Stephanie Shepheard in 2016, and Dr Justin Chalker in 2015.
How to nominate
Check out the selection criteria, read ahead and see what questions will be asked, then go online and nominate via the short, easy, online application form.
Nominations close midnight on Tuesday 24 April.
The training and events will be held in June and July– dates will be posted on the Fresh Science website.
What's involved in Fresh Science?
In each state, the top ten applicants will be selected. If selected, the following will be provided:
A day of media training where you will: hear from working journalists about what makes science news for them; find the story in your research with guidance from two experienced science communicators; and practice being interviewed in front of camera and on radio.
A short profile about your work written in a media-friendly way, published online and via social media.
The chance to step on stage and present your science to a friendly audience down at the pub. In some states, you will also present to school students or a "shark-tank" style panel of leaders from industry and government.
One story per state will be written up as a press release and issued to the media.
Fresh Science is an initiative of Science in Public.
Fresh Science South Australia is supported by the South Australian Museum, Flinders University, the University of South Australia and the University of Adelaide.
Now in its 21st year, Fresh Science has trained over 500 scientists to share their science, and generated hundreds of news stories via TV, print, radio and online. You can read past Fresh Scientists' stories online at freshscience.org.au.
---