Seminars Conferences and Workshops

Abstract Deadline & Early Bird Registration Extended for the 2018 ASMR National Scientific Conference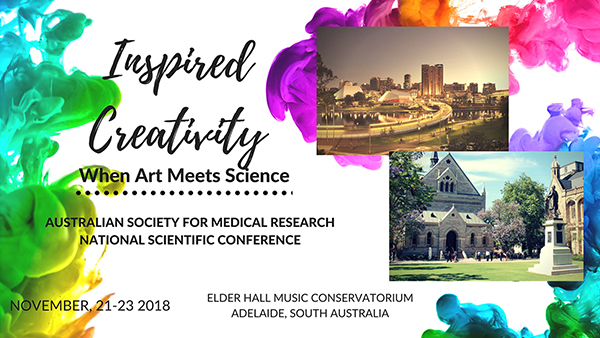 The 2018 Australian Society for Medical Research (ASMR) National Scientific Conference is an outstanding opportunity for EMCRs to present their latest research in a relaxed and friendly environment of their peers.

With multiple opportunities for free abstract oral presentations, as well as the very popular 'rapid fire' poster sessions, the conference is open to all areas of health and medical research and will be held at the Elder Hall Music Conservatorium from 21-23 November 2018.
The general theme of "Inspired Creativity: When Art Meets Science" aims to explore how transdisciplinary collaborations can improve the pursuit of scientific discovery and communication, with translation into better health outcomes.
Oral abstract and early bird registrations will close on 15 October 2018. Speaking spots are still available for those wishing to present. Poster abstracts will be accepted up until 5 November 2018.

A very exciting and innovative conference program that features plenary talks by the 2018 Edwards Orator, Prof Paul Torzillo (respiratory physician and co-director of HealthHabitat) and the 2018 Firkin Orator, Ms Honor Harger (curator of the Singapore Art Science Museum) has been assembled. Additionally, at 'Inside the Scientists Studio', the life and mind of renowned functional geneticist, Professor Josef Penninger, will be interviewed by Graham Cornes of 'Conversations with Cornsey' on radio FIVEaa.
The program also features invited presentations by Professor Don Stewart from the Queensland Conservatorium Research Centre on his research into music as a social determinant of health and well-being. Professor Jill Bennett, Director of the National Institute of Experimental Arts will speak about her work as the Director of the Big Anxiety Festival. Finally, Director of the 3D Visualisation Lab, Associate Professor John McGhee will speak about how virtual reality in medical applications and science communication can be used.
The conference also features a highly innovative professional development program, with networking opportunities and workshops focussed on communication and critical thinking.
In particular, 'The Art of Critical Thinking' will be facilitated by art curator, Kylie Neagle, and Professor Josef Penninger. It will take participants on a journey through the art gallery, critically examining works of art and relating the process of grant review.
The popular and traditional 'Student Networking Breakfast' will provided ASMR student members the opportunity gain career and life advice from some of the invited speakers, and other special guests over a casual breakfast setting.
This truly unique and innovative conference opportunity is one not to be missed!
Full conference details, including registrations, can be found on the ASMR website: https://asmr.org.au/asmr-nsc/nsc-welcome/.
---